Riverside At Home
Riverside's continuum of care approach through our At Home services alleviates pain, eases hardships, answers your questions and empowers you and your loved ones to celebrate life. Our primary goal is to listen and find out what is wrong - and provide services to make your life better.
At Riverside, we care for you and your loved ones as we would care for those we love, with services customized for your specific needs. Our At Home services are available in any phase of life, providing peace of mind where you feel most secure and comfortable.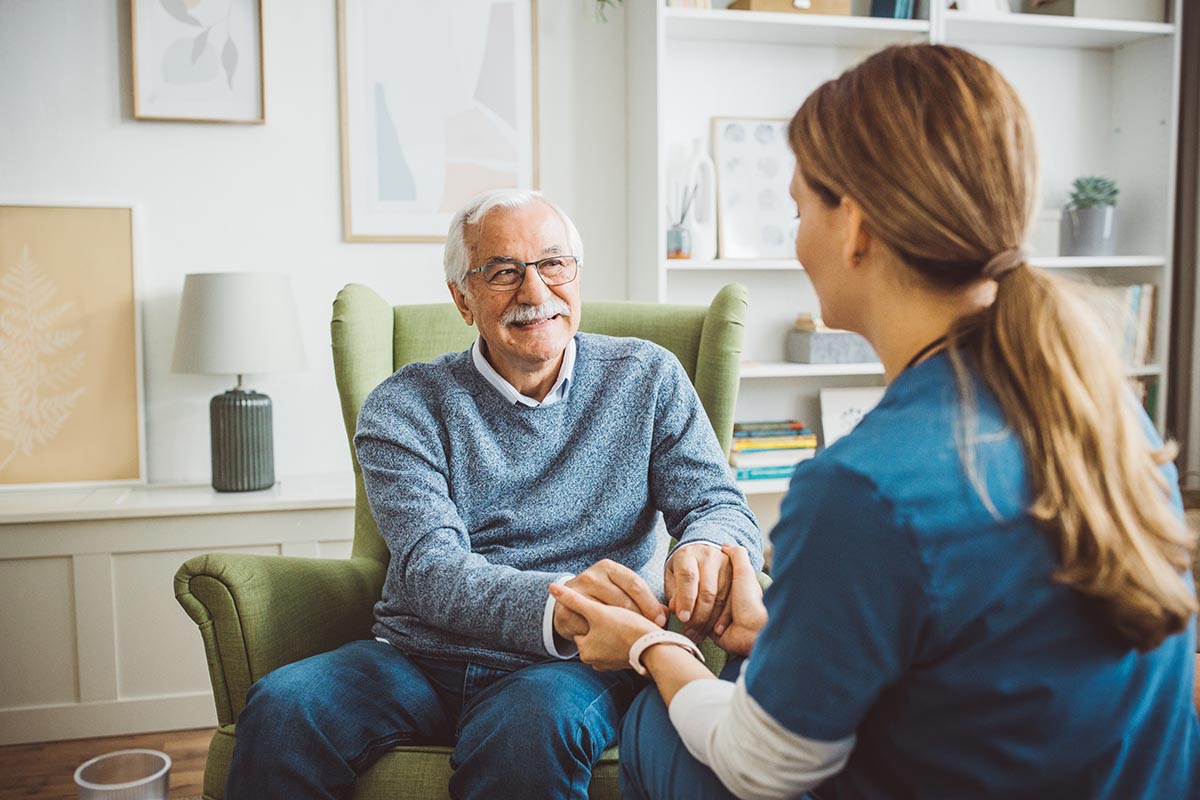 First, Communicate your Health Decisions
Throughout our lives, we face many decisions about our health and how we can best care for aging loved ones. You're looking for answers – solutions – to know what's available so you and your family can have peace of mind and celebrate a full, meaningful life. The first step in determining the best care path for you or a loved one is to communicate your care decisions through advanced care planning.
When your wishes are clear, then finding care can and should be a positive, comforting experience. One where the care providers feel like true partners and treat your loved ones like they were a member of their own family. With Riverside At Home, that's exactly what you can expect.
Exceptional Care Available for any Need
Whether you need help with daily activities after a hospital stay or are trying to handle insurance and Medicare coverage late in life, you want to feel secure, relaxed and at home when planning for each stage of care. Our goal is to help put you at ease as you answer three crucial questions:
What happens next?
How can I feel better?
How can I get back home?
Riverside At Home provides personalized care and one-on-one attention that wouldn't be possible in a hospital or nursing facility. Along with these benefits, At Home services are more affordable than inpatient care.
What's the best way to learn about Riverside At Home services? Read stories from people in our region who have benefited from these specialized services or call 757-594-5600 to ask questions and get started.
What are At Home Services?
Riverside At Home services are available to individuals recovering from a hospital stay, illness or surgery, as well as managing challenging diseases. Many people, for example, use these services following joint replacement or other surgeries. You can access our comprehensive At Home services wherever you call home – not just in a house – including skilled clinical care facilities and retirement residences and communities.
Along with skilled clinical care provided by nurses, therapists and other highly trained medical professionals, Riverside offers short-term or long-term assistance with everyday activities like cooking, cleaning, bathing, dressing, mobility and more. If you need physical therapy, a cane, medication reminders or assistance after a fall — whatever it is, we can help.
Proactive planning can save you and your family undue stress and worry. Don't hesitate to contact us with questions. Share your situation and concerns, and we'll listen closely to customize a care plan that removes the fear of the unknown and helps you move to the next appropriate step.
How to Get Started
Riverside At Home services usually begin with a referral from your physician. Our team members will work closely with your physician to establish a plan of care specifically designed to meet your needs, and we will regularly discuss your progress with your physician.
Call 757-594-5600 to get started. We streamline the process so we can begin meeting your needs as soon as possible.
Like other home care agencies across Virginia and the nation, Riverside At Home is participating in the Home Health Quality Initiative (HHQI) recently launched by the Centers for Medicare and Medicaid Services. The HHQI combines health care quality information for consumers and new educational resources for home health agencies to improve the quality of care for patients.
Accreditation
Reviewed and accredited by the Community Health Accreditation Program
A Continuum of Clinical and Personal Services
At Home Services and Resources
Steadfast Support: Kathy's Hospice Story
Kathy Helbig shares about her mother's Alzheimer's diagnosis and care from Riverside's Walter Reed Hospice team.
"It was like somebody called the cavalry in to rescue us."
- Kathy Helbig, patient's daughter
Have Questions? Contact us for more information.
757-594-5600