How the Riverside Hospice Team Became Part of Kathy's Family
Kathy Helbig speaking about her Mom who had an Alzheimer's diagnosis and was cared for by the Riverside Walter Reed Hospice team.
It's not like I was without resources and support. I have a large family, including four siblings in Virginia, and everyone did what they could. But they all were still working and had a lot of other responsibilities. So when my mother was diagnosed with Alzheimer's a number of years ago, it was clear that most of the caretaking was going to fall to me. After some medical setbacks, a stay in the hospital and then rehabilitation, she was pretty much bed ridden.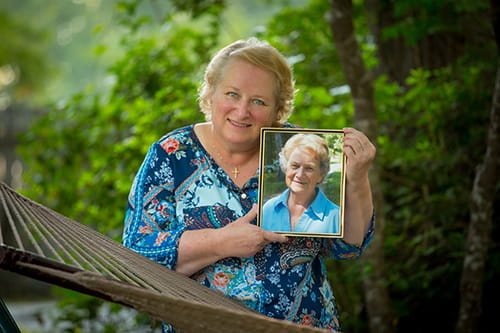 As mom began to decline at a faster pace, I realized I had a lot of physical help but the emotional support seemed to be missing. It was about then that my sister-in-law and nieces, all nurses at Riverside Walter Reed Hospital, said that my mother was eligible for hospice. I called and a nurse came out the next day for an evaluation. Right away I felt a weight lifted off my shoulders. Really, I told people it seemed like somebody called in the cavalry to rescue us. I even started sleeping better, that's how relieved I was.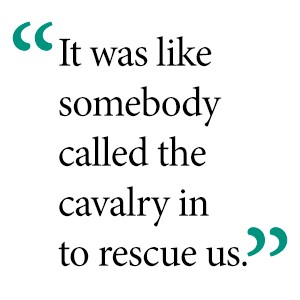 My Riverside Hospice team explained what we could expect and what they would be doing to help my mother be as comfortable as possible. Everyone on the team was very competent, which I would expect. But the compassion and warmth they brought went above and beyond.
I learned a lot from them about care giving. They taught us and at the same time, they were open to learning what mom preferred. The team was very sensitive and respectful of her needs as well as the needs of our family. It's always been hard for me to ask for help but as they spent time caring for my mother I knew I needed it – not only help, but people I could trust and rely on.
Even after mom passed, they provided support through grief counseling and an annual remembrance ceremony.
Looking back, it was like they became part of my family and I still have contact with some of the team members. Losing someone you love is very painful especially when the end of life care is something you experience over a period of time. But there's also a special joy to being able to provide comfort and care, and for me the hospice team was a big part of that joy.
Have Questions? Contact us for more information.
757-534-6161