Team Members Make it Special at Warwick Forest
With a daughter in Richmond, Thelma Liberty thought of moving there. Only she can't imagine leaving behind the family she has at Warwick Forest in Newport News.
Thelma is an assisted living resident who needs some help with her daily activities, including dressing and bathing. Three longtime team members have become like family to her. "I simply love them," she says. "I couldn't love them any more if they were related to me."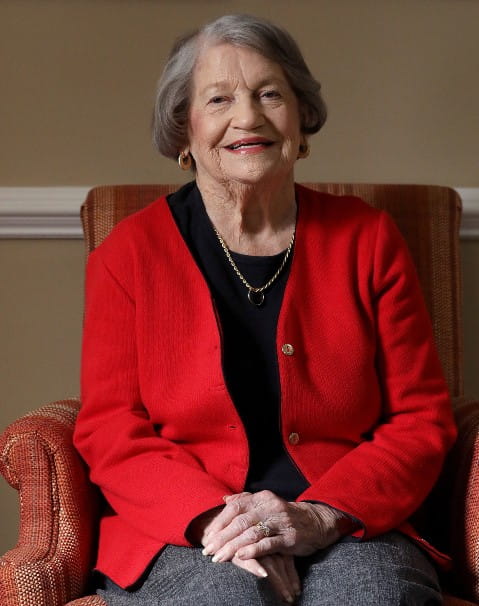 Thelma moved into The Nottingham at Warwick Forest in July 2019, shortly after losing her husband of 61 years. Thelma and Lou Liberty were avid walkers, who trekked two miles every day of the week. When Thelma broke her femur, she needed rehabilitation to recover and did not want to return to her sizeable Newport News house. Ultimately that led her to Warwick Forest, where, "I loved it from the beginning," she says. "Everyone has been so nice to me."
Thelma reconnected with an old friend she used to play golf with who also resides at Warwick Forest, and quickly, she made several new friends. While COVID restrictions have prevented residents from gathering in the dining room for meals, she's excited about when it's safe to return. "I love going to the dining room," she says. "The food is so good there, and I always have friends to sit with."
Thelma is familiar with the wait staff and greets several of them with a big hug. She also enjoys the activities that include Bingo and live entertainment with singers and instrumentalists. During the holidays, she was grateful for an hour of wine and caroling with the other residents, and she's a faithful churchgoer who never has to venture outdoors to attend services. Warwick Forest brings in ministers every Sunday.
Thelma hasn't given up walking outdoors, either. The well-maintained grounds at Warwick Forest are perfect for that. "Every day I go for a walk around both ponds," she says. "I bundle up, hat on my head and gloves and coat on, and off I go."
But the team members are what distinguish Warwick Forest for her. They make it special in every way.
"I have a nice apartment, and I've met some of the nicest, nicest people who work here," Thelma says. "They're wonderful to me. It's just so nice when they come in to my apartment. I don't just like them — I love them."