Riverside's continuum of care
Whereas many health systems have some of the services needed by a quickly aging public, Riverside has a full continuum of care that boasts the ability to serve more than 7,000 older adults each day.
This investment, which began decades ago, gives Riverside many unique advantages. Regardless of the facility or community-based service, Riverside strives to be the provider of choice and has grown to be the largest network of services dedicated to older adults in the Commonwealth of Virginia.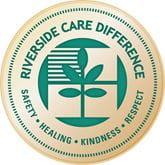 Our fundamental belief is that our job is to empower the lives of those we serve regardless of their age or disability. While each experience is different for every patient, resident and customer, depending on the person's specific needs, all are based on the Riverside Care Difference philosophy: putting our customer at the heart of all we do ensuring the highest safety, quality and service. Put simply, the Riverside Care Difference is a promise that reflects our belief that healthcare is a lifelong relationship.
With more than 30 providers dedicated to caring for our older adults, the care extends through the full continuum, to include our House Calls Practice, short-term skilled rehabilitation and continuous care, home health and hospice, Geriatric Assessment and Management Clinics, specialized hospital care models for older adults, such as Acute Care for Elders (ACE), and primary care.
Learn more about Riverside's continuum of care by visiting the Healthy Aging page.
Have Questions? Contact us for more information.
Contact Us