Enjoy First Class Culinary Creations
Eating is much more than basic sustenance. Sharing meals with family and friends is at the core of most of our social interactions. When you're retired, you have the time and luxury to relax over food and drinks, enjoying the companionship of others. As a resident of Warwick Forest, you can also choose to leave the meal preparation to us.
Our diverse and flexible dining experience is an extremely appealing part of the lifestyle at Warwick Forest. You'll find we have designed our dining options to accommodate residents, not the other way around. Residents receive a quarterly allowance and can enjoy meals in any of our six dining venues. We offer casual and formal dining options, a full bar, catering, a diverse menu that changes often and a retail kiosk for milk, bread, snacks and other basic food items.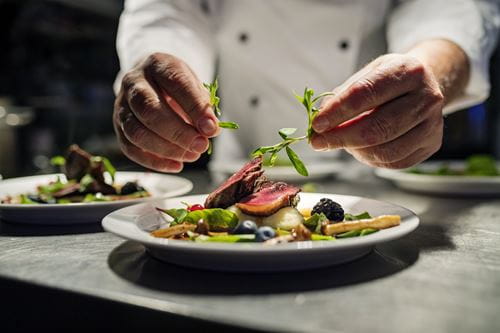 Allow Our Expert to Explain
"Warwick Forest serves a liberalized menu," explains Erik Czarnatowicz, Director of Dining Services. "We offer home cooking and heart-healthy menu items, including low-sodium and diabetic items. In fact, we often change menu items to accommodate neighbors' needs."
Erik has been with Warwick Forest for eight years. As a graduate of the Culinary Institute of America, he brings world-renown culinary training to Warwick Forest, so neighbors know they are getting much more than standard dining fare.
"I like Warwick Forest because it's more like a country club atmosphere," Erik says. "It's nice to see familiar faces and to build relationships with our neighbors."
Something for Every Taste
Warwick Forest offers both menu and buffet service, with rotating specials every two days and special theme meals five out of seven days.
"Everyone has to eat," Erik says. "It's one of the most important parts of the day. Everyone has the option of coming to one-or to all-meals. There's a lot of socializing among neighbors. The socializing aspect and the amount of choices we offer at Warwick Forest really make us stand out."
Have Questions? Contact us for more information.
Contact Us