Bertha Ryan's story
Why a former pilot and NASA engineer calls Warwick Forest home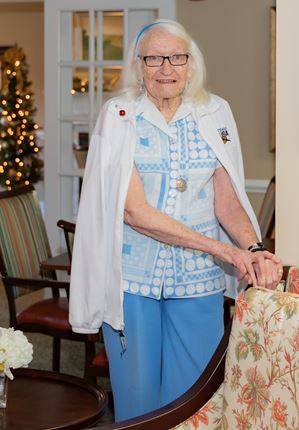 Bertha Ryan saw her first airplane at the age of three, and it was love at first sight. The year was 1931, less than three decades after the Wright brothers made history at Kitty Hawk. By the age of 16 Bertha had obtained a private pilot's license and was moving toward a future that would hold advancements in aviation that people could scarcely imagine at the time. And it was a future she wanted to be part of in a meaningful way.
After majoring in math as an undergraduate, Bertha completed an advanced degree in aeronautical engineering from MIT and embarked on a professional life that eventually took her to Edwards Air Force base in the high desert of southern California. Here, she became part of an active duty and civilian workforce that formed the heart of what was, and continues to be, the center of the aerospace testing universe.
"I was there shortly after NASA was formed in 1958. It was an exciting time to be working in that particular field. Just about every military aircraft developed since WW II was at least partially tested at Edwards. I had the opportunity to meet people like Chuck Yeager, the test pilot who first broke the sound barrier. I also met Neil Armstrong, the first person to walk on the moon. We worked on quite a few important projects including a piloted re-entry vehicle that helped pave the way for the Space Shuttle. There was always some engineering problem to solve, always something new to learn, and I enjoyed the challenges. Over the years I did a lot of traveling for work, too, in the states as well as Europe, South America and Africa. Looking back I would say that I was informed and motivated by the science of aerospace technology but I was inspired by the people who made up that small but very skilled community."
Have Questions? Contact us for more information.
Contact Us