The public hearing for Riverside Smithfield Hospital is on October 13 at 11:00 a.m. Would you like to be a part of the hearing? Click the link below to learn more.
Riverside Health System has proposed to build a new hospital in the Benns Church area of Isle of Wight County and has filed an application with the Virginia Department of Health for a Certificate of Public Need (COPN).
Riverside Smithfield Hospital will provide local residents with greater, more convenient access to high-quality, affordable medical care. It also will support employment of hundreds of professional and support staff.

Riverside Health System currently provides primary care in Carrollton, diagnostic services in Smithfield, a healthy living community in Smithfield, featuring assisted living, memory care, long-term care and a skilled rehabilitation center. Riverside Health System spans an area of 8,000 square miles in Eastern Virginia, with more than 700 clinical providers and more than 9,500 team members.
Isle of Wight County
needs

a hospital

The Federal Government has designated Isle of Wight County as a Medically Underserved Area (MUA) and Health Practitioner Shortage Area (HPSA). Thousands of local residents live more than 30 minutes from the nearest hospital and emergency department. With the population expected to grow, there is a clear public need for a new local hospital.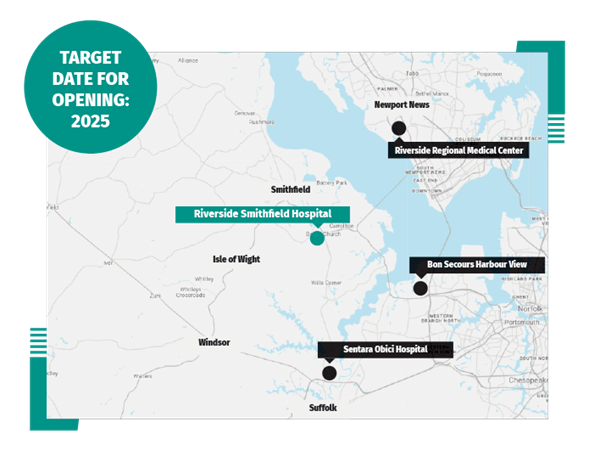 About Riverside Smithfield Hospital
The proposed 50-bed acute care facility would be built on land owned by Riverside Health System near the intersection of Routes US-258 and VA-10.
Services offered:
Emergency department
Labor and Delivery Department with Level 1 Neonatal Nursery
Diagnostic imaging services, including CT and MRI
The hospital will feature:
Please show your support for Riverside Smithfield Hospital by sending a message to the Virginia Department of Health that Isle of Wight County needs a new hospital.