A basic change makes a big difference for food-insecure diabetics
Sometimes going back to basics can make a big difference. A Riverside community partnership has brought about that kind of change for diabetic patients facing food insecurity.
It's a simple yet effective idea: Identify at-risk patients who don't have access to one of the most basic resources — affordable, nutritious food. Assess readiness for change. Then provide the food they need to help them get and stay healthier.
The program is focused on Riverside's Brentwood Medical Center, where a disproportionately high number of patients face food insecurity, in Newport News. This is a different problem than what we think of as hunger. Food insecurity involves not having access to quality food, resulting in disruptive eating patterns or reduced food intake overall.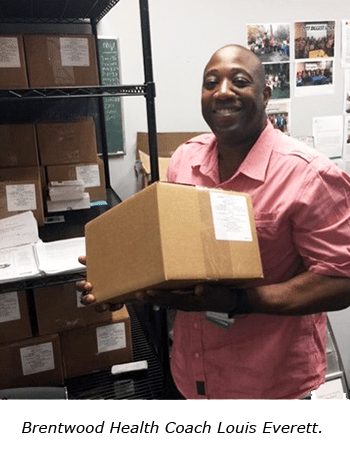 It can have a big impact on health, especially for diabetics. "If you're eating bad foods, your blood sugar is going to be out of control," said Brentwood Health Coach Louis Everett. "Some of our people live on a budget of food stamps. They may get $25 a month. They rely on the Food Bank and church groups. Eating healthy is a challenge."
Riverside's program was rolled out in August 2018 after we partnered with the Virginia Peninsula Food Bank to source nutritious, low-glycemic food — like whole wheat pasta, canned chicken, shelf-stable milk, oatmeal and low-sodium canned vegetables — that would be healthy for diabetics. Along the way we ironed out a number of logistics, including converting a Brentwood office into a secure holding space that would meet food storage guidelines.
About 35 people are enrolled in the Riverside program, based on referrals from the Brentwood team, which includes a thriving family medicine physician residency program. Candidates are accepted after being screened to assess readiness for change. They must also commit to the program, including agreeing to participate in an educational session. Those with a body mass index of 30-plus are invited to attend group weight loss classes twice a month.
Program participants return to Brentwood every other week to pick up their food boxes. This allows the clinic team to monitor their progress to determine if the interventions are effective in improving health.
So far the outcomes have been encouraging, with 71 percent of program participants maintaining or decreasing their A1C, which reflects average blood sugar levels over several months. Just over 60 percent have lost weight and reduced their BMI. "It's more than just getting a box," Everett said. "They're coming back because they're hungry to learn. When they see change, they feel good about it."
Riverside has a strong commitment to supporting our communities. This project was a result of the 2016 Peninsula Community Health Needs Assessment — a process that helps us identify needs in all the regions we serve. From that process, Riverside worked with other area health systems, the Food Bank and the Virginia Department of Health through the Peninsula Community Health Collaborative to develop an effective program to impact food-insecure diabetics. The hope is to seek grant funds to expand the program once we can demonstrate a lasting impact.