Orthopedic & Sports Medicine Specialists
Let us help you return to your active lifestyle.
We provide a full range of surgical and nonsurgical solutions for orthopedic disorders.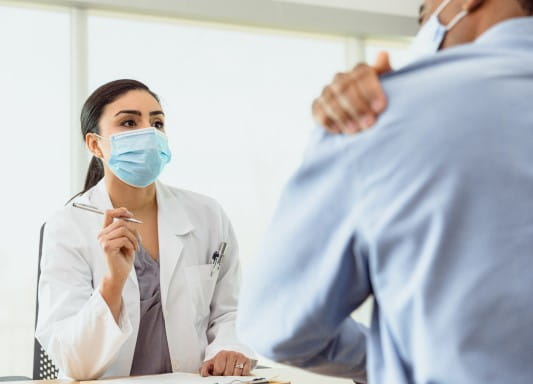 Let us help you return to your active lifestyle.
Riverside Health System provides comprehensive orthopedic care for any condition or injury that impacts your mobility or musculoskeletal function. Our orthopedic team is specially trained across the entire musculoskeletal system, including your bones, but also cartilages, ligaments and other connective tissue that support your body and work together with your muscles for ease of movement. We work collaboratively with other clinical specialists for your specific care, including your primary care physician or referring physician and other musculoskeletal specialists such as rheumatologists or physiatrists.

This multidisciplinary approach means you have the collaboration and coordination of your care from diagnosis to optimal recovery. Complete orthopedic care at Riverside includes an extensive range of services, from onsite imaging services to surgical or non-surgical treatment, interventional pain management and physical medicine and rehabilitation. Every member of our orthopedic clinic team collaborates on your progress, making adjustments as needed for improved outcomes.
Fellowship-Trained Specialists Provide Comprehensive Orthopedic Care
At Riverside, you have an entire system of care supporting you. Our team provides the same day or next business day triage of any orthopedic concern, so we get you to the right orthopedic specialist as soon as possible. We have dedicated orthopedic trauma specialists for even the most complex injury, so every orthopedic injury is quickly assessed for the most appropriate level of care.

With this integrated approach to orthopedic care excellence, our fellowship-trained orthopedic specialists provide efficient and effective care for any specialized orthopedic need, including:
Learn How to Keep Active and Avoid Injury
Our orthopedic team gets you well today, but we also help you stay healthy. We have a team of physical therapists and specially trained athletic trainers that provide outreach across local communities, ensuring athletes know how to keep active and avoid injuries. Riverside also has comprehensive training, group exercise, integrated wellness and healthy mind + body programs at our Wellness & Fitness Centers to keep you focused on improved health and wellness.
Is Painful Movement Slowing You Down?
Don't let any orthopedic related pain keep you from doing the things you love. Riverside has an entire team of orthopedic specialists to get you better and keep you active. Contact one of our team members to start on your path to recovery.