Jean's Story
Ask Jean Ingram what she thinks of Dr. Barbaro Perez and she'll tell you straight.
"I know, I just know, that God sent him to me. There is no doubt in my mind."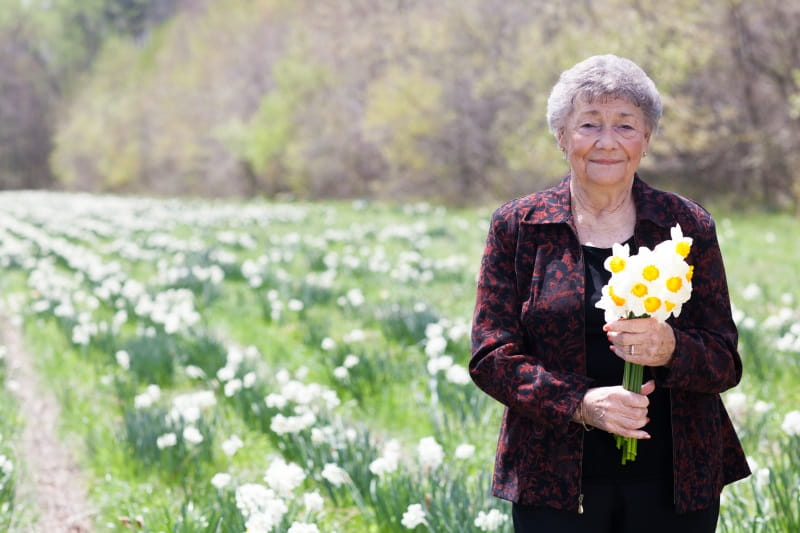 While recovering from swine flu that led to pneumonia in 2008, Jean's physician encouraged her to see Dr. Perez to look at her ailing shoulders, both of which were filled with spurs, chips and a cyst, Jean said.
"I had a lot of problems and was aching and aching and aching."
Following surgery with Dr. Perez on both shoulders and in-patient rehabilitation at the Heron Cove at Sanders, where Jean said they treated her like family, "I ache no more."
"I don't know what would have done if I hadn't had the surgery. I couldn't even move my shoulders because it was so painful. There were some cabinets in the kitchen that I couldn't reach. Now I can reach them all. In fact, the first thing I did with my arm was wash the dishes and put them all away in the cabinet."
And then she started picking flowers again.
In the spring, Jean and her husband run a daffodil business, selling cut daffodils at the annual festival and in Williamsburg.
"When you see all these beautiful flowers on our farm you just want to pick them. I wasn't allowed to at first. But Dr. Perez told me one day I would feel really great again. And I do."