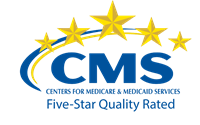 Award-winning skilled nursing care. Providing excellent skilled nursing care is not new at Sanders. Recently the Centers for Medicare and Medicaid Services (CMS) awarded Sanders Skilled Nursing it's highest 5-star rating. We are proud of our highly trained staff that truly embody the Riverside Care Difference to care for others as we would care for those we love.
One visit to Heron Cove at Sanders will transform everything you've ever known or thought about long-term care. And there's no other place like it in all of Virginia.
At Heron Cove, the nursing home institution is replaced with authentic homes where residents receive a high level of quality clinical care in a highly residential setting.
Both houses in Heron Cove, the newest buildings on the Sanders campus just off of Gloucester's Main Street, are designed like traditional homes and feature private bedrooms and bathrooms and open dining and living areas. At the heart of each home sits a family-style kitchen that's resident friendly and meant to bring every aspect of home life to the forefront of daily living.
What you don't see and hear in either Heron Cove home is just as important as what you do.
There are no check-in desks or nurses' stations. No long corridors with row after row of open doorways. No loud alarms and overhead paging.
At Heron Cove, the residents are in charge of their home, of their lives – just as they should be. They make the decisions about how the home will operate and best serve their needs.
Living at Heron Cove
Everything in the Heron Cove houses are designed around the central idea of life, a normal life.
Life in the household reflects the rhythms of the people living in it. There are no schedules—no set times to wake up, go to bed, eat, bathe, line up for medications.
The kitchen is open and available to everyone. There's a large, open living room and dining area.
There are porches and a garden.
Bedrooms and baths are private.
Each house is a home for its residents in every sense of the word.
Self-led, dedicated teams. Team members support the residents and their loved ones to make decisions regarding their care. We ask "what matters to you" instead of "what's the matter with you." The premise is that relationship building is the key to establishing a meaningful life. The households and team sizes are intentionally kept small to enhance the ability to establish such relationships, while maintaining privacy.
Individual routines are respected. At Heron Cove, residents arise when they choose, eat when they choose and have the autonomy to be the driver of their daily lives.
Team members are versatile. Each member of the team is cross-trained to handle a variety of resident needs just as a member of a family can help others when and where it's needed.
Understanding the Household Model
Two very basic beliefs inspired the development of Heron Cove that completely transform the way Sanders provides long-term care for older adults:
Growing older and needing extra care should not mean having to give up the things you value most in your life.
All of us thrive best in an environment that is familiar, that is normal, that is the way we've lived our lives always.
Built around a framework known as the Household Model, Heron Cove sheds the regimentation, the top-down management, the emphasis on efficiency first that is the stereotypical image of the traditional "nursing home."
Instead, the Sanders team at Heron Cove focuses on relationships and choice. Residents make the decisions about how their household will function and about how they will manage their own personal lives. Above all, our approach recognizes and fosters those values that every human needs and cherishes—dignity, respect, love and privacy.
These values are often lost in an institutional environment; they thrive in the familiar setting of a household where there is a sense of family, of freedom, and where each resident can control his or her own daily life.
Truly, residents at Heron Cove are free to be who they are, who they want to be. And Sanders team members ensure residents remain safe throughout those decisions.
Riverside was the first in Virginia to offer this wonderfully positive, freestanding Household Model of care, right here at Sanders.
For more information about Heron Cove, call 804-693-2000 or contact us here.
Have Questions? Contact us for more information.
Contact Us