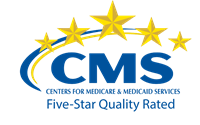 Award-winning skilled nursing care. Providing excellent skilled nursing care is not new at Sanders. Recently the Centers for Medicare and Medicaid Services (CMS) awarded Sanders Skilled Nursing it's highest 5-star rating. We are proud of our highly trained staff that truly embody the Riverside Care Difference to care for others as we would care for those we love.
Sanders Retirement Village leads the ways across Virginia when it comes to delivering excellent skilled nursing care in a healthy living community. Like in the houses at Heron Cove at Sanders, the household model culture is applied throughout the entire campus and our skilled nursing services and residences, whether long-term care or rehabilitation stays.
Sanders' commitment to superior skilled nursing care has been recognized with a five-star rating from the Centers for Medicare and Medicaid Services (CMS), the highest designation available based on unannounced inspections by the CMS.
Relax and Recover with Virginia's Rehabilitation Experts
As part of our skilled nursing community, guests at the Riverside Rehabilitation Center at Sanders feel a true sense of belonging, allowing them to focus on recovery and a safe return home.
The rehabilitation center assists individuals recovering from an injury, illness or surgery using therapy programs developed and overseen by Riverside Therapy Group. Our protocols are modeled after Riverside Rehabilitation Institute's highly regarded programs and offer:
Physical therapy
Speech therapy
Occupational therapy
Outpatient therapy, as directed by your doctor
Whether our guests are participating in our rehabilitation services or receiving skilled nursing services, our highly qualified, dedicated staff works in harmony to meet their needs.
Transitions between hospitals and home are smooth, thanks to the implementation of the latest technology. After your inpatient rehabilitation, you can also receive outpatient therapy, as directed by your physician, at an outpatient clinic convenient for you and your family.
To learn more about long-term care or rehabilitation, call 804-693-2000 or contact us here.
Have Questions? Contact us for more information.
Contact Us