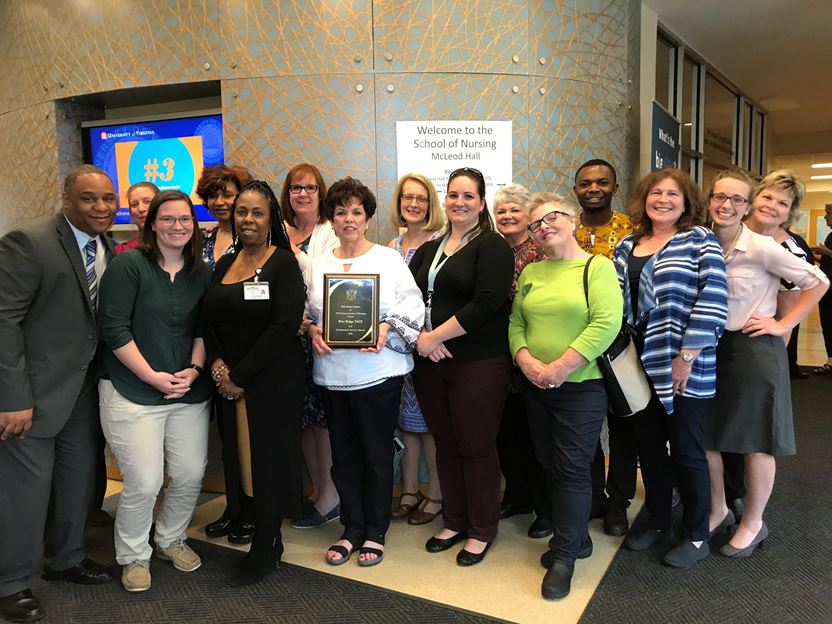 Blue Ridge PACE has been selected to receive the 2018 Community Service Award from the Sigma Theta Tau International - Beta Kappa Chapter of the UVA School of Nursing.
This recognition is for a community partner who meets these criteria:
Community leader or organization that has influenced health care in the social, political, economic and/or institutional arena
Endorsement and support from nursing, other health professionals, and community leaders
Recognized locally, statewide, and/or nationally for contributions as an advocate of nursing and/or
health care
Contributions significantly enhance the level of health or health care of the community
Blue Ridge PACE (Program of All-Inclusive Care for the Elderly) has been an active partner with UVA's School of Nursing and the Charlottesville community for four years. Their work assists in improvement of outcomes for community members, better care of the patients and their families, and the enhanced education of nurses.
Blue Ridge PACE offers comprehensive care to older adults, enabling them to remain in their homes and communities. The program provides and coordinates all types of care an individual may need so they don't have to be placed in a nursing home. The PACE model is centered on the belief that it is better for the well-being of seniors with chronic care needs to be served from within the community whenever possible. By utilizing a team-based approach, PACE is able to provide quality care with a focus on prevention and wellness, thus avoiding unnecessary care and the escalating costs associated with additional care.
"We are thankful that we have been able to help so many older adults remain in their homes throughout the past four years," said James Sawyer, Site Director for Blue Ridge PACE. "Life changing situations are experienced through the PACE program which enhance the quality of life for those enrolled."
Blue Ridge PACE is a joint venture of Riverside Health System, the University of Virginia Health System, and the Jefferson Area Board for Aging (JABA). Blue Ridge PACE serves the city of Charlottesville and the counties of Albemarle, Fluvanna, Greene, Louisa and Nelson.
Learn more about Blue Ridge PACE at 434-529-1300.
For information, contact Betty Sharp, Outreach Manager, at [email protected] or 434-529-1304.