Newport News, Va. – Riverside, a regional pioneer in the use stereotactic radiation therapy, introduces the Edge™ Radiosurgery Suite to its dedicated Radiosurgery Center, located at Riverside Regional Medical Center. The new system is designed to perform advanced, non-invasive cancer procedures anywhere in the body - including the brain, spine, head and neck, adrenal gland, lung, liver and pancreas - with extreme precision and low toxicity.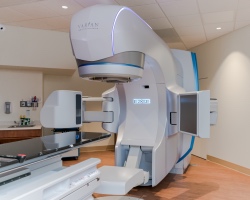 "This new Edge system was specifically designed for performing radiosurgery and will be an excellent enhancement to the cancer care we provide at Riverside," says Dr. Ron Kersh, a radiation oncologist at Riverside Regional Medical Center.
The Edge, created by Varian Medical Systems, uses new real-time tumor tracking technology and motion management capabilities, improving both safety and comfort for patients by protecting healthy tissue with sub-millimeter-accuracy. The radiosurgery suite at Riverside is one of only 40 in the country.
Cancer patients today often have a range of treatment options. Whether a first-time diagnosis, a recurrence, or a metastasis (a cancer that has spread from the primary site of diagnosis), Riverside has remained on the forefront of delivering the latest treatment options. That's just one of the reasons they partnered with University of Virginia and Chesapeake Regional to open the state's first and only dedicated radiosurgery center.
With a multidisciplinary team that includes neurosurgeons, radiation oncologists, physicists, radiation therapists, and a team of nurses and support staff, the Center has become a model for domestic and international cancer centers providing radiation care. The Center currently treats more than 400 radiosurgery cases every year.
Radiosurgery uses targeted beams of radiation to peRiverside Foundationorm knifeless surgery. The dedicated Radiosurgery Center at Riverside has always included the Gamma Knife for cancers and conditions that affect the brain. The second radiosurgery suite has served patients with cancers and conditions that impact other parts of the body. Now, Riverside is introducing the Edge Radiosurgery Suite, which can accurately target tumors and other abnormalities without an incision or the need for recovery in a hospital setting. The new system will provide faster treatment sessions, real-time imaging integrated directly into the system, and increased comfort for the patient.
"We are increasingly making cancer a chronic disease rather than a terminal diagnosis," adds Kersh. "Cancer used to be seen as something you cured or something that you died from. But with radiosurgery, our patients are treating (sometimes multiple) cancers and living with a high quality of life for many, many years."