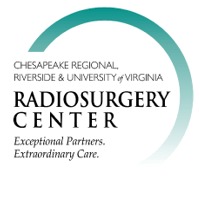 Riverside, in partnership with Chesapeake Regional and the University of Virginia Health System offers a state-of-the-art, dedicated radiosurgery center located on the campus of Riverside Regional Medical Center. This cooperative venture brings together three highly skilled medical staffs and the commitment of each health care organization to help keep the future of medicine closer to home for residents of Hampton Roads and beyond.
With a multidisciplinary team that includes neurosurgeons, radiation oncologists, physicists, radiation therapists, nurses and a team of support staff, the center has become a model for domestic and international cancer centers providing expert radiation oncology care. The center currently treats more than 400 radiosurgery cases every year.
The partnership brings a level of leadership in Gamma Knife® radiotherapy technology and an international reputation in radiosurgery treatment — the use of precisely focused radiation to treat tumors and other disorders — that enables Riverside to advance this area of medical care to world class standards.
Leading technologies for noninvasive surgery
Stereotactic radiosurgery at Riverside offers noninvasive treatment options for tumors, lesions and disorders anywhere in the body.
In addition to the Gamma Knife which is used to treat both malignant and nonmalignant brain tumors and other brain diseases, the Chesapeake Regional, Riverside and University of Virginia Radiosurgery Center currently operates the Varian Edge™ Radiosurgery system, developed for areas of the body other than the brain. Both technologies rely on exceptionally accurate beams of radiation rather than incisions, so procedures are painless and bloodless, and patients recover much faster than with conventional surgery.
The capability to provide cancer treatment for the whole body in one facility makes Riverside a true Center of Excellence for radiosurgery and radiotherapy and a valuable health resource for the entire region.
Learn more about stereotactic radiosurgery at Riverside
If you or your loved one wants to learn more about comprehensive cancer care at Riverside, specific cancer services or advanced stereotactic radiosurgery, please contact one of our cancer care team members.
Related: