The Edge™ Radiosurgery Suite is designed to perform advanced, noninvasive cancer procedures anywhere in the body -- including the brain, spine, head and neck, adrenal gland, lung, liver and pancreas -- with extreme precision and low toxicity.
This state-of-the-art radiosurgery system is currently the only one on the peninsula.
A breakthrough in radiosurgery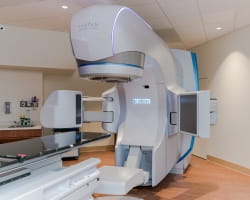 The Edge, created by Varian Medical Systems, uses new real-time tumor tracking technology and motion management capabilities, improving both safety and comfort for patients by protecting healthy tissue with sub-millimeter-accuracy.
Conditions treated
Varian Edge lets physicians, radiation therapists, and medical physicists treat cancers of the spine, neck, chest, lung, prostate, pancreas and liver. The Edge radiosurgery can also be used on brain tumors that aren't accessible to the Gamma Knife®.
The new system can accurately target tumors and other abnormalities without an incision or the need for recovery in a hospital setting.
Benefits of Varian Edge radiosurgery treatment
Faster treatment: With a dose rate of up to 2,400 monitor units per minute, it offers rapid stereotactic treatments in nearly half the time when compared to other systems that can take well over an hour per session.
Increased comfort: The six degrees (6D) of freedom treatment couch provides the accuracy, precision and flexibility needed to optimally position and adjust patients, allowing them to be comfortable and breathe freely during treatment.
Real-time imaging: An advanced motion management package makes it possible to better compensate for tumor motion during treatment. The 2.5mm multi-leaf collimator provides a distinct cutting "edge" for radiosurgery treatments.
Cost-effective medicine: The Edge can accurately treat the vast majority of what a proton beam center can do at a fraction of the cost of a proton unit.
Related
Riverside Introduces the Varian Edge™ Radiosurgery suite to its Dedicated Radiosurgery Center