The Smithfield household model
Growing older doesn't have to mean giving up things you value most about living.
Welcome to Willow Creek, our household model residence. One visit will transform everything you've ever known or thought about long-term care.
At Willow Creek, the nursing home institution is replaced with authentic homes where residents receive a high level of quality clinical care in a highly residential setting. The household is designed like a traditional home and features private bedrooms and bathrooms and open dining and living areas. At the heart of the household sits a family-style kitchen that is meant to feel just like home.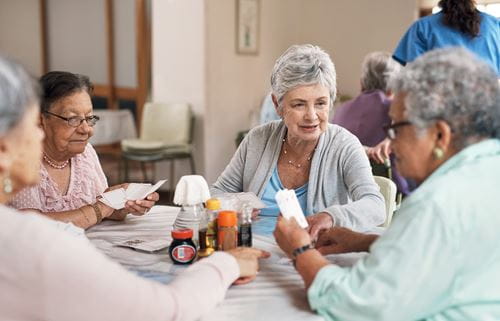 Here, the residents are in charge of their home. They make the decisions about how the home will operate and best serve their needs.
Two very basic beliefs inspired the development of the household model that completely transform the way we provide long-term care for our older adults:
Growing older and needing extra care should not mean having to give up the things you value most in your life.
All of us thrive best in an environment that is familiar, that is normal, that is the way we've lived our lives always.
Built around a framework known as the Household Model, we focus on relationships and choice at Willow Creek. Residents make the decisions about how their household will function and about how they will manage their own personal lives. Above all, our approach recognizes and fosters those values that every human needs and cherishes—dignity, respect, love and privacy.
These values are often lost in an institutional environment; they thrive in the familiar setting of a household where there is a sense of family, of freedom, and where each resident can control his or her own daily life. Truly, residents at Willow Creek are free to be who they are, who they want to be.
Riverside is a pioneer in Virginia offering this wonderfully positive household model of care, right here in Smithfield.
Have Questions? Contact us for more information.
Contact Us