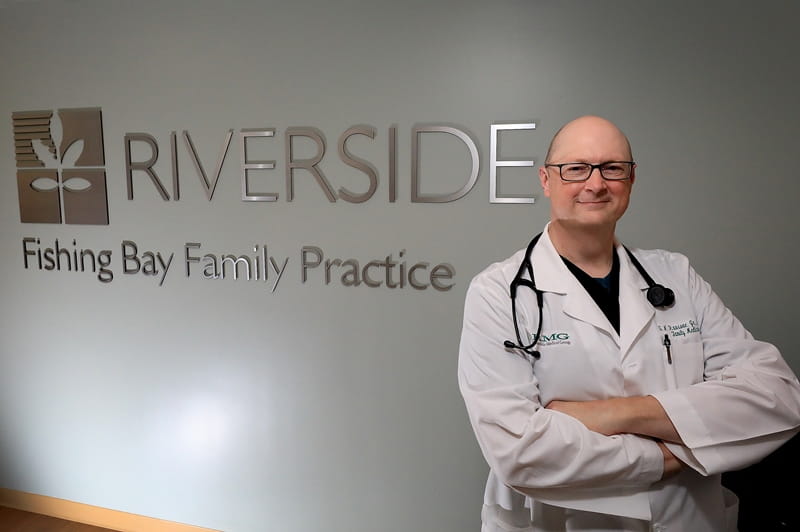 Sterling N. Ransone Jr., M.D., FAAFP, a family physician at Riverside's Fishing Bay Family Practice in Deltaville, Virginia, has been elected president-elect of the American Academy of Family Physicians, becoming the first Virginian to serve in this role.
"I'm excited about serving in this capacity and looking forward to helping ensure there is a family physician for every patient in every community," Ransone said, highlighting his campaign emphasis on expanding health care into rural regions to ensure all patients have access to the care they deserve.
The Academy represents 136,700 physicians and medical students nationwide. As an Academy board member, Ransone advocates on behalf of family physicians and patients across the country to inspire positive changes in the U.S. health care system.
To reach the goal of having a family physician for every patient, Ransone said, "we're trying to get at least 25% of medical school graduates to go into family medicine by 2030. By increasing the pipeline we have a better shot at getting those family doctors in every community, especially rural communities."
Having grown up in a rural community and chosen to practice in a rural community, Ransone said, "I have seen and understand firsthand how important it is to get care into our rural communities."
Especially today.
"The pandemic has really shone a light on the plight of rural health care providers," Ransone said. "There are smaller, independent family practices that had to shut down completely as a result of the pandemic, a time when patients need their access to medical care more than ever. I was really proud of our group, of Riverside, for keeping our offices open. But that was not the case for everyone."
The pandemic also highlighted the importance of ensuring developments in technology and access to broadband continue to reach rural regions to ensure patients can access providers via video visits and other telehealth options.
"We can do 21st century house calls with patients thanks to technology, but we need to ensure patients have that technology access and that Congress continues to allow those types of visits with providers to be paid for," Ransone said. "If we can get broadband to a lot of my elderly patients, for example, there is a lot that can be done electronically to help them manage chronic illnesses."
Ransone is a third-generation family physician and has practiced rural medicine for more than 20 years.
He earned his Bachelor of Science and Master of Science degrees in biology from the College of William & Mary, and then earned his medical degree from the Medical College of Virginia of Virginia Commonwealth University. He completed his internship and residency at a Riverside family practice in Newport News.
Ransone is board certified by the American Board of Family Medicine and has the Academy Degree of Fellow, an earned degree awarded to family physicians for distinguished service and continuing medical education.
In addition to his work at Fishing Bay Family Practice, Ransone is an assistant clinical professor of family medicine and population health at Virginia Commonwealth University. He previously held the role of chief resident of family medicine with Riverside.
A member of the Academy since 1995, Ransone served as a Virginia delegate to the Academy's Congress of Delegates.
Ransone is a former president of the Medical Society of Virginia, chair of Medical Society of Virginia Political Action Committee, and president of the Mid-Tidewater Medical Society. He is a winner of both the Medical Society of Virginia Advocacy Hero Award and the Holland Award for political service. He is currently a delegate to the American Medical Association's House of Delegates and has served on several committees and panels. He has also spoken nationally on various clinical and advocacy topics.
Published: October 28, 2020