Riverside Health System has completed a brand refresh of their Lifelong Health and Aging Services and is excited to announce the new name, Riverside Lifelong Health (LLH), which better represents their strengths, values, and evolved service line offerings.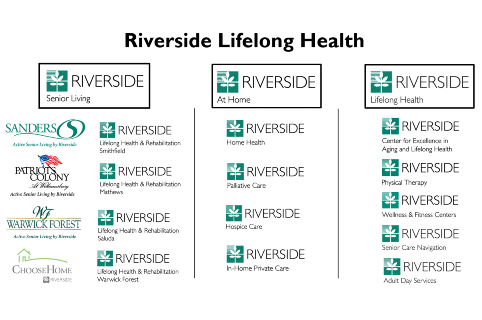 "We removed the word 'Aging Services' from our brand name as Lifelong Health best reflects our commitment to serving everyone regardless of age or where they maybe in their health care journey," says Ed Heckler, president of Lifelong health at Riverside. "Lifelong Health reflects the range of services we provide; from wellness, fitness, balance, strength training to home care and support, palliative and hospice care, as well as senior living communities."

The refresh comes as LLH continues to grow and adapt to meet the needs of their patients, residents, team members as well as the growing needs of the community. The LLH rebrand will include three key elements:
New name and logo for Riverside LLH
A more seamless online experience for consumers
New name and logo for Riverside Senior Living includes continuing care communities
New name and logo for Riverside At Home includes all home care services
"Rebranding LLH has been an extraordinary internal effort by team members from across Riverside," says Heckler. "Riverside LLH has seen tremendous growth and we remain committed to evolving our service offerings to meet the needs of our patients, residents, and community."

The rebranding efforts will continue to evolve over the next 9-12 months as Riverside LLH implements their rebranding elements. Learn more about Riverside LLH by visiting riversidonline.com.