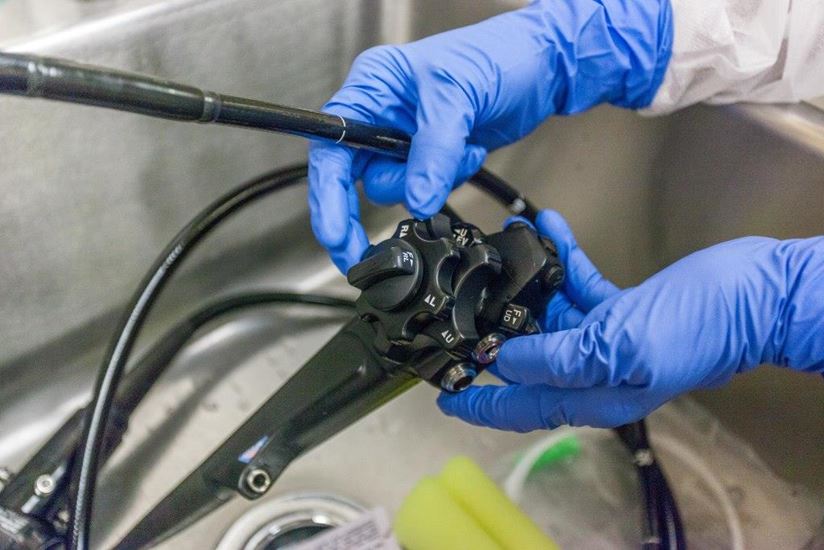 Williamsburg, Va. – Index AR Solutions, a leading provider of enterprise Augmented Reality (AR) applications, announced today it has partnered with Riverside Health System to create AR apps that will help keep patients safe while making it easier for hospital workers to do their jobs.
The first app being developed uses AR and other visual technologies on a tablet to help medical technicians visualize, more quickly learn and easily follow the manual step-by-step process for cleaning a popular type of endoscope used in an estimated half-million gastrointestinal medical procedures each year.
Among other uses, endoscopes provide a less invasive way than traditional surgery to peRiverside Foundationorm potentially life-saving procedures to diagnose and treat medical problems.
Proper cleaning and reprocessing of reusable endoscope devices is critical to preventing the transmission of infectious agents from one patient to another, a concern that has garnered attention from the U.S. Food and Drug Administration.
The first-of-its-kind app developed by Index and Riverside will help assure proper cleaning of the endoscope by giving workers precise, easy-to-follow "step by step" instructions displayed in 3D imagery. Helpful safety warnings, 3D animations and written instructions are also built into the app, presented to users in the context of corresponding steps.
Additional benefits are expected in the form of increased job satisfaction, as workers are able to more quickly master tedious tasks using the modern devices to which they are accustomed, and a reduction in the time it takes to train new workers.
"While Riverside Health System has not experienced issues related to the cleaning and reprocessing of reusable endoscope devices, this is an issue that has caught the attention of the medical community, the public and the press," said James Lesnick, M.D., a neurosurgeon and current Senior Vice President for Business and Venture Development at Riverside Health System. "As medical practitioners, it is our responsibility to always look for ways to improve patient care and here, with Index AR Solutions, we believe we have found a way to bring the power of AR technology to bear in hospitals across the U.S. to benefit patients and technicians alike."
The endoscope cleaning app is the latest in a series of AR product offerings from Index AR called SuperApps® that are tailored to address common workforce challenges associated with an industry.
Delivering the core functionality of Index AR's custom-built applications, SuperApp® product development is peRiverside Foundationormed in the field – in close collaboration with an initial client partner – using real-world scenarios. Once commercially available, SuperApp® products can be rapidly procured and deployed by other clients to meet their business needs.
The app represents Index AR's first foray into the health care vertical and builds on the company's long history of helping industrial clients achieve dramatic benefits from AR.
"At Index AR Solutions, we don't augment reality, we augment people – and nowhere is that distinction more important than in the health care field," said Dexter Lilley, Executive Vice President and Chief Operating Officer at Index AR Solutions. "We are extremely proud to partner with a leader like Riverside Health System on the first of many applications that will use AR to bolster the safety, efficiency and job satisfaction of hospital operations everywhere."
Today's announcement marks another milestone in Riverside's desire to partner with other leading organizations on evidence-based innovation that will drive positive outcomes across the health care ecosystem. In October, Riverside announced it was awarded a nearly $1 million federal grant to enhance dementia care programs for patients and caregivers, one of just 19 organizations nationwide to receive an award, and the only one in Virginia.
Riverside is also considering other potential use cases where AR can deliver measureable improvements in safety, quality, speed, knowledge retention and overall health care worker job satisfaction.
Once the endoscope cleaning app has completed development within Riverside Health System, other hospital systems across the U.S. will be invited to demo and license the app for their own use.
In addition to its SuperApp® library, Index AR offers clients custom-built AR apps to help their people work smarter and safer in a variety of industries, improving inspection, work instruction, training, workflow management and other operations. Studies by independent third parties have shown that organizations using an Index AR app have seen a two to four times increase in worker productivity.
For more information on the Index AR Solutions SuperApp® library visit indexarsolutions.com/augmented-reality-superapp-products. For more information on Riverside Health System's research efforts, visit riversideonline.com/research.