One of 75 institutions to hold GEDA accreditation from the American College of Emergency Physicians, which recognizes excellence in care for older adults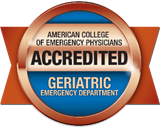 Williamsburg, Va. – In recognition of its advanced expertise caring for older adults, Riverside Doctors' Hospital Williamsburg recently earned Level 3 Geriatric Emergency Department Accreditation from the American College of Emergency Physicians, or ACEP. Riverside Doctors' Hospital Williamsburg is the first institution in Virginia and one of 75 nationwide to have received the GEDA accreditation, which recognizes emergency departments that provide "excellent care for older adults."
The American College of Emergency Physicians, with support from the Gary and Mary West Health Institute and John A. Hartford Foundation, developed the GEDA program to highlight institutions that excel in their care for older adults. The college recognized the "remarkable team of interdisciplinary leaders" at Riverside Doctors' Hospital Williamsburg, including Todd Parker, M.D., FACEP, and Dawn Sanchez, RN. The acknowledgement also noted Riverside's focus on the "highest standards of care for your community's older adults."
"Becoming the first Accredited Geriatric Emergency Department in Virginia is not just an honor, but a testament to the hard work and dedication of so many people at Riverside Doctors' Hospital Williamsburg and the outstanding care that senior and geriatric patients will receive when unscheduled care is needed," said Dr. Parker. "This Bronze Level 3 accreditation recognizes the outstanding work that we already do, and we are laser-focused on making further improvements to become Silver (Level 2) or Gold (Level 1) certified, to even better serve the fast growing demographic of senior/geriatric patients in Williamsburg and surrounding communities."
According to ACEP, the GEDA program is the culmination of years of progress in emergency care of older adults. In 2014, ACEP along with the Society for Academic Emergency Medicine, Emergency Nurses Association and American Geriatrics Society, developed and released geriatric ED guidelines, recommending measures ranging from adding geriatric-friendly equipment to specialized staff to more routine screening for delirium, dementia and fall risk, among other vulnerabilities.
"I am extremely proud of the team for receiving this accreditation as it is a true testament of the wonderful care they provide to everyone who walks through our doors," said Adria Vanhoozier, Vice President and Administrator for Riverside Doctors' Hospital Williamsburg.
The voluntary GEDA program, which includes three levels similar to trauma center designations, provides specific criteria and goals for emergency clinicians and administrators to target. The accreditation process provides more than two dozen best practices for geriatric care and the level of accreditation achieved depends upon how many of these best practices an emergency department is able to meet. As a Level 3 emergency department, Riverside Doctors' Hospital Williamsburg incorporates many of those best practices, provides interdisciplinary geriatric education and has geriatric appropriate equipment and supplies readily available.
"Geriatric Emergency Department Accreditation is a major milestone for Riverside Doctors' Hospital Williamsburg, and it is especially gratifying to be the first institution in the Commonwealth of Virginia to earn it," said Dr. James McCorry, Riverside Doctors' Hospital Williamsburg Service Line Chief and Emergency Department Medical Director. "We look forward to building on this accreditation and further extending the advanced care we offer to older adults and their families."
This accreditation is among a series of achievements for Riverside Doctors' Hospital Williamsburg, which has developed a leading reputation for caring for older adults. The hospital, which includes 40 private patient rooms and is a Certified Primary Stroke Center, has also achieved NICHE Exemplar Status, a commitment to the highest quality care of older adults.
"Ensuring that we provide excellent, compassionate care for older adults is a particularly important focus across all of Riverside Health System," said William B. Downey, President and CEO of Riverside Health System. "The Geriatric Emergency Department Accreditation earned by Riverside Doctors' Hospital Williamsburg is measurable proof of that focus and the tireless dedication of our team members who care for others as they would care for those they love."
Riverside Health System also operates a Lifelong Health division of more than 40 doctors, hospice medical directors, palliative care providers and advance practice providers in long-term care facilities.
The division includes the Riverside Center for Excellence in Aging and Lifelong Health, which led the proposal in Riverside's 2018 award of a nearly $1 million federal grant to enhance dementia care and wellness across the region. In addition to launching new programs that will allow more older adults living with dementia to access memory clinics and physical wellness programs to enhance their quality of life, the grant provided funding to continue training the family and professional caregivers who provide the majority of support for patients as their disease progresses.
Published: July 11, 2019