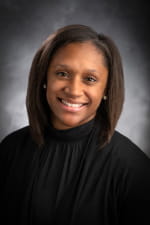 While growing up in New Rochelle, New York, Shavonne spent much of high school in the athletic training room, where she learned about a career that combined her passions for sports and caring for others.
She went on to earn a Bachelor of Science in kinesiology from Temple University and a Master of Science in exercise science from Florida Atlantic University. As a Certified Athletic Trainer credentialed by the Board of Certification for the Athletic Trainer, Shavonne is experienced in educating patients about their conditions and providing exercises to help them improve.She strives to make her patients feel comfortable while providing a listening ear, treating each person as she would want her family to be treated.
Outside of work, Shavonne enjoys traveling, watching sporting events, trying new restaurants and spending time with her family.
Locations
Orthopedic Surgery Clinic - Newport News
Orthopedic Surgery Clinic - Williamsburg