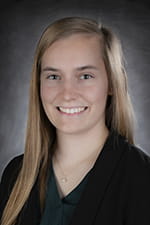 Jamie earned a Bachelor of Arts in athletic training from Cedarville University. She is a Certified Athletic Trainer credentialed by the Board of Certification for the Athletic Trainer, and licensed in the state of Virginia.
With a passion for helping young athletes who want to succeed in their sports, Jamie strives to take care of each one as a person rather than as a condition or injury. She enjoys taking time to truly listen to her patients and do what is best for them. Jamie's philosophy is to provide the highest level of compassionate care to each patient, regardless of age, skill level or sport. She has a special interest in emergency care and has done research focused on spine boarding protocols.
A true local, Jamie was born and raised in Newport News and enjoys spending time in Williamsburg with her church and friends. During her college experience in the cornfields of Ohio, Jamie's appreciation for the water and tall trees of Hampton Roads grew. She especially loves Colonial Williamsburg and our area's outdoor recreation opportunities, along with serving on the summer camp staff at Williamsburg Christian Retreat Center.
Locations
Riverside Sports Medicine – Williamsburg
Williamsburg-James City County Middle Schools