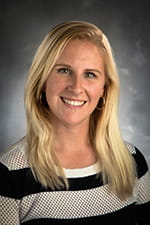 Ashlee earned a Bachelor of Arts in athletic training from Appalachian State University in 2008, followed by a Master of Science in physical education from Florida International University in 2010. She is a Certified Athletic Trainer credentialed by the Board of Certification for the Athletic Trainer, and licensed in the state of Virginia. Ashlee is a member of the National Athletic Trainers' Association.
After enjoying sports throughout her childhood, Ashlee developed an interest in sports medicine during high school that led her to pursue a profession in this field. Today as an athletic trainer, she strives to educate her patients on how to better themselves through the use of exercise. Ashlee spent nine years as an athletic trainer in Florida prior to joining Riverside in 2017.
Born and raised in Corning, New York, Ashlee enjoys our area's seasons, especially fall. She likes to spend her free time at the gym or hanging out with her dog.
Locations
Riverside Sports Medicine - Newport News