Joint University is a customized, secure online educational program to help you understand the various aspects of your joint replacement procedure.
The Joint University program covers the entire process including:
The preoperative appointment
The day of your surgery
Your hospital stay
Your discharge
Your continued recovery
Durable medical equipment, to make it easier and safer at your home
Home health services, including physical therapy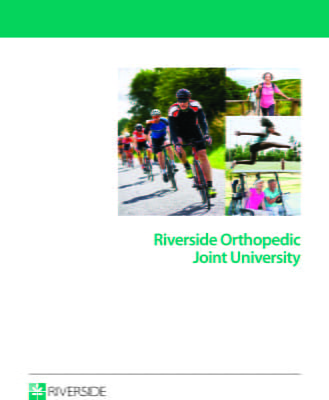 Explore the Interactive version
or download the PDF version.
The goal of total joint replacement is to reduce pain and improve your range of motion. It is critical that you work to regain a near normal range of motion of your joint in the first three to six weeks after surgery. Joint University can help you to reach that goal.
We will partner with you from the initial consultation with your surgeon, through your surgery, recovery in the hospital and at home and to continued wellness.
Before the procedure: Preparing your home
You can help to ensure success in your recovery from joint replacement by following these suggestions. Planning ahead is the key to minimizing stress and optimizing your outcome.
If you live alone or have other special needs, consider going to a specialized rehabilitation facility after discharge from the hospital. Your doctor can suggest appropriate places to consider.
Arrange for someone to take you home and to stay with you for several days after your surgery.
If you do the cooking, make double batches of everything for a week or two before your surgery. Freeze half, and you'll have two weeks of ready-made meals when you get home. Or stock up on ready-made foods that you enjoy.
Place items you use regularly at arm level so you do not have to reach up or bend down.
You may need to rearrange furniture or temporarily change rooms (make the living room your bedroom, for example).
Remove any throw rugs or area rugs that could cause you to slip.
Securely fasten electrical cords around the perimeter of the room.
Consider modifying your bathroom to include a shower chair, gripping bar or raised toilet.
Shop for things that will make your life easier after surgery. Your list might include a long-handled shoehorn, a long-handled sponge, a grabbing tool or reacher, a footstool, a big-pocket shirt or soft shoulder bag for carrying things around.
Set up a "recovery center" where you will spend most of your time. Things like the phone, television remote control, radio, facial tissues, wastebasket, pitcher and glass, reading materials and medications should all be within reach.
If you do not already have a parking permit for a disabled person, apply for a temporary permit several weeks prior to your surgery. Contact the Department of Motor Vehicles, or your doctor's office may have an application form.
Before the procedure: Preparing your body
The physical preparations you make can affect both the outcome of the surgery and your recovery time.
If you smoke, cut down or quit. Smoking changes blood flow patterns, delays healing and slows recovery.
If you drink, don't have any alcohol for at least 48 hours before surgery.
If you use any other types of controlled substances, tell your doctor. Narcotics and other drugs can have an impact on your surgery.
Eat well. If you are overweight, your doctor may recommend a weight loss program.
Ask your doctor for presurgical exercises. If you are having hip or knee replacement surgery, doing exercises to strengthen your upper body will help you cope with crutches or a walker after surgery. Isometric exercises can help maintain the strength of your leg muscles. Also ask about the exercises that will be prescribed after surgery. If you familiarize yourself with these postoperative exercises and practice them now, they will be easier to perform after the surgery.
-- Content adapted from recommendations by the American Academy of Orthopedics surgeons and Mosby's Nursing Consult)