If you are experiencing chest pain, call 9-1-1 IMMEDIATELY. Do NOT drive or operate a motor vehicle.
Riverside Walter Reed Hospital is a 67-bed hospital located just off Main Street in Gloucester court house. With a recently renovated and expanded Emergency Department with both Certified Chest Pain Center and Primary Stroke Center designations we are here to care for your most emergent medical needs. The 12,000 square foot Intensive Care Unit, state-of-the-art Surgical Services Department and all private inpatient rooms provide the best in care, comfort and safety right here in the community. The hospital also features a complete range of outpatient services including bloodwork, bone density testing, CT, mammography, MRI, PFT, ultrasound, stress testing and more. We have a highly professional, caring team and more than 50 exceptional area physicians.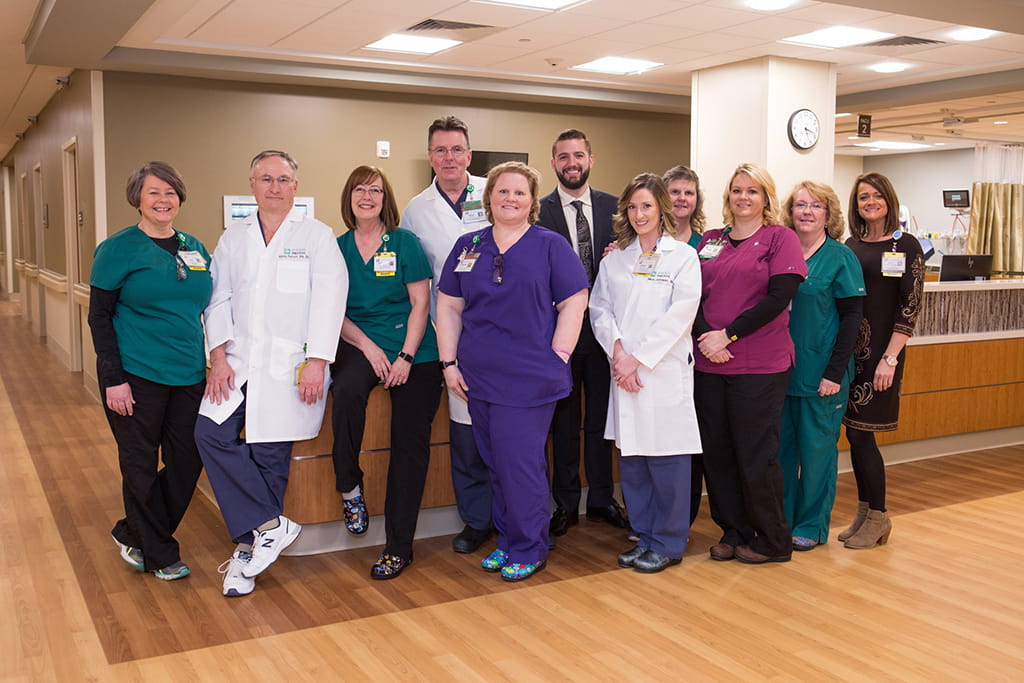 Renovation and Expansion
Riverside Walter Reed Hospital recently completed portions of its largest renovation and expansion project in its 40-year history, creating a better place to heal for patients, families, visitors and team members. From concept to completion, these renovations offer state-of-the-art care and comfort. In every facet of the construction, from furnishings, to computer systems, to room set-up, the facility was designed to provide healing safe, comfortable healing environment helping to ensure privacy for patients, their families and visitors.
Medical and Surgical Inpatient Rooms
The 36 private rooms for general medical, surgical and orthopedic patients are each equipped with a private bathroom and shower. The rooms also include:
Fully integrated computer system with computers in each room that enable safe, efficient access to clinical records.
Telemetry monitoring capability and trained monitor technicians stationed right on the floor 24/7.
Comfortable furniture, including convertible sleeper sofas and additional seating to help ensure family members are comfortable while visiting their loved ones.
New Private Patient Rooms at Riverside Walter Reed Hospital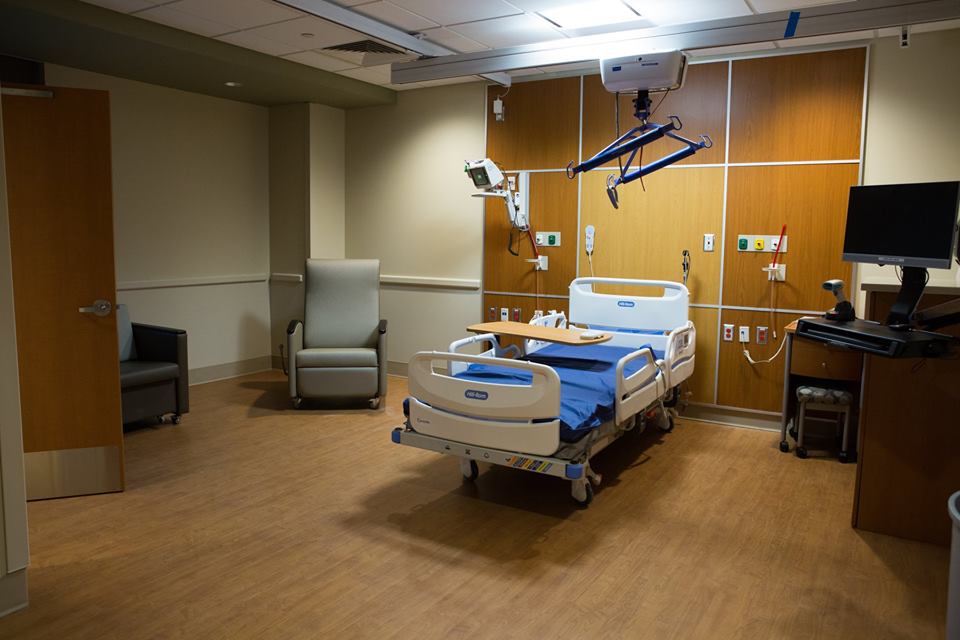 Operating Rooms
Three large fully integrated operating rooms with state-of-the-art equipment including:
New LED surgical lights that are brighter, put off less heat and are camera-equipped.
Surgical Video Integration using multiple large, high definition monitors to display different images provides a complete picture of the patient's condition at any given moment in time.
High definition, higher quality visuals and video imaging to enhance accuracy and safety throughout the surgery area, including endoscopy.
Bair Paws warming gowns to keep patients pre-warmed before surgery and during surgery at the temperature of their choosing. These gowns increase circulation, promote wound healing and decrease risk of infections.
Boom-operated equipment that provides more efficient cleaning for infection prevention.
Advanced Lighting in New Operating Suite at Riverside Walter Reed Hospital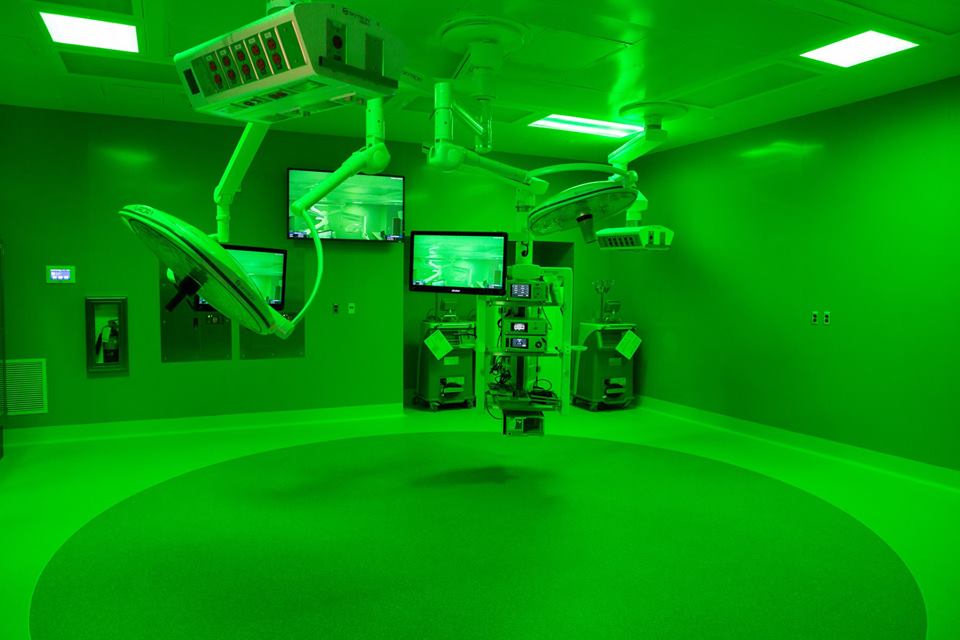 Pre-op and Recovery Units
Each bay and room is comfortable, enhances privacy and supports best practices in infection prevention and safety.
Design of the units facilitates careful monitoring of patients, with special attention to managing pain and symptoms that typically follow surgery.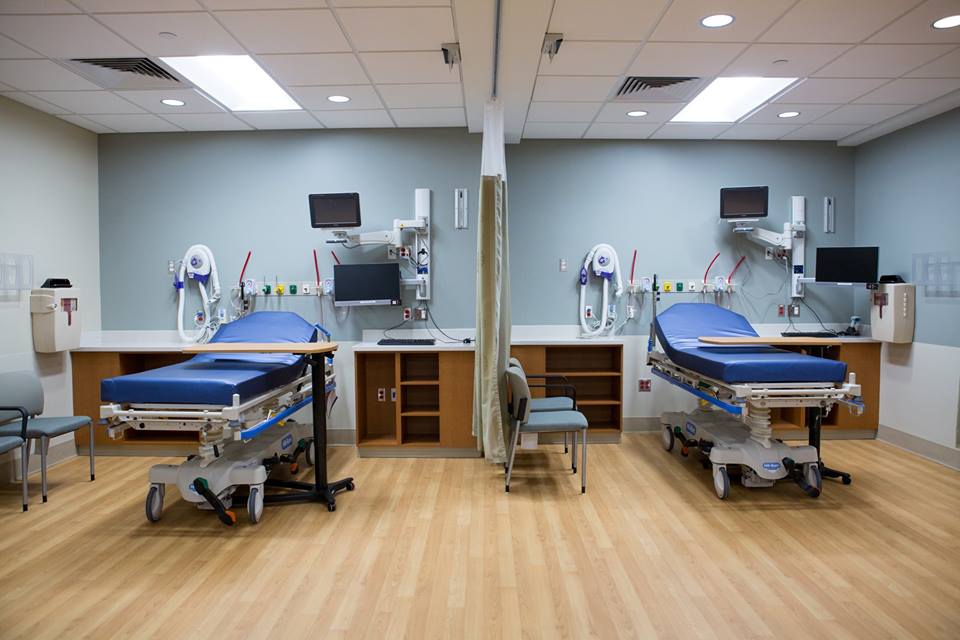 Procedure Rooms
Two large procedure rooms are furnished with state-of-the-art equipment for gastroenterology scoping and other minor procedures.
Each room is equipped with high definition equipment and scopes and the latest version of the Medivator reprocessing system.
Surgical Video Integration using multiple large, high definition monitors provides a complete picture of the patient's condition at any given moment in time.
Emergency Department
The complete renovation and expansion project at Riverside Walter Reed Hospital also includes the expansion of the hospital's Emergency Department which services nearly 22,000 patients a year. The new Emergency Department, scheduled for completion later in 2019, is being enlarged from 6,300 square feet to more than 18,000 square feet and includes 18 beds, three major treatment rooms, a trauma room and a dedicated Family Care Room.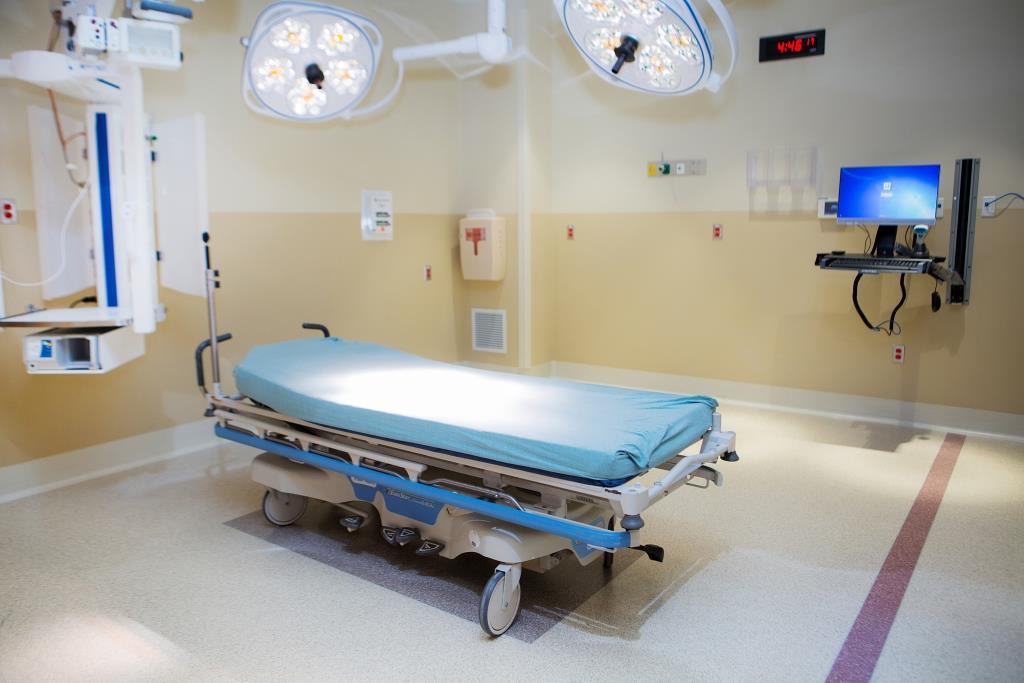 Other major enhancements to be completed later this year include a new central pharmacy, the relocation of various administrative offices and the opening of a new gift shop and a coffee bar in the new lobby area, offering grab-and-go food and beverage items.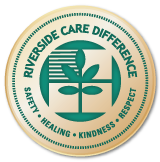 The Riverside Care Difference
The Riverside Care Difference is the way we deliver care and services, as a team, by putting our customers at the heart of all we do. It's our commitment to keep you safe, help heal you, be kind and respect your wishes.
You may also be interested in: