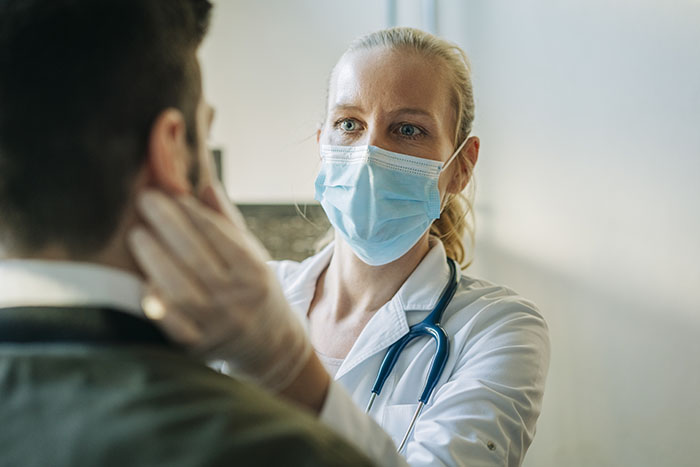 We are taking many steps to keep patients and visitors safe at Riverside. Social distancing remains the best way to prevent the spread of COVID-19, and many of our spaces have been reconfigured accordingly. Here's what you can expect:
All patients and visitors will be required to wear a mask. If you don't have a face covering, one will be provided for you. Our staff will also be wearing masks. Hand sanitizer will be available.
We will screen everyone by doing a temperature check and asking some basic health questions.
We continue to limit visitation — with the awareness that social distancing remains the best way to stop the spread of COVID-19. We recommend calling the facility or office ahead of time if you have questions about having someone accompany you. You can also learn more here.
We maintain social distancing during the check-in process and as patients wait to be seen. If you can't go directly to the exam room or the testing site, in many cases you will wait in your car, and we will call you when it's time to come in. If you prefer to wait inside, our waiting areas have been configured to enable everyone to remain at least 6 feet apart.
Our facilities all use advanced high-level cleaning practices. This includes frequently sanitizing all high-touch surfaces, with extensive cleaning of exam rooms between patients.
We ensure our team members have access to the personal protective equipment recommended by the CDC.
Anyone with potential COVID-19 symptoms will be placed in a separate area of care away from other patients.
Staying informed
One of the best ways to stay informed on what's happening at Riverside is to sign up for MyChart. We can send you messages through this platform, as well as through texting and email if you provide that information. Learn more about MyChart.
You can also connect with Riverside on social media. Learn more about our social media channels.