Mrs. Howell's COVID-19 Testimony
Many patients who've been diagnosed with COVID-19 aren't hospitalized but still need extra care. That's where the Riverside Home Health team comes in. Listen to learn more about how the Riverside's Home Health team cared for Diane during her battle with COVID-19.
Mr. Calloway's COVID-19 Testimonial
Meet Robert Calloway, a Covid-19 survivor. On March 15th, Mr. Calloway admitted himself to the Riverside Doctors' Hospital in Williamsburg due to flu like symptoms. Because of his condition, he was admitted into the intensive care unit as a result of the Covid-19 virus. The Riverside team was able to provide him with the care he needed to gain a full recovery that allowed him to reunite with his family.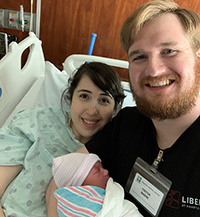 When a pandemic was not part of your birth plan
Like any expectant mother, Gabrielle McCollum had vision for receiving family and friends at the hospital to meet her baby. Those plans changed dramatically with COVID-19 forcing hospitals to limit and then restrict visitation prior to Gabrielle's delivery date. Read more.
Care packages support team members at home
Riverside prepared a special delivery recently for team members who were at home self-quarantining due to COVID-19. Read more.
Cancer doesn't stop for COVID-19 and neither do the Riverside teams
With all attention focused on COVID-19 and its impact on hospitals across the country, it is easy to lose sight of the many patients that fall outside of COVID-19 but are in critical need of health care services. Read more.