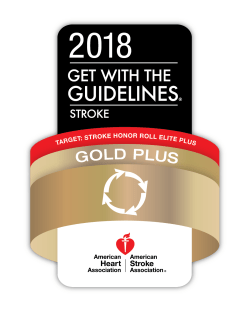 Riverside Regional Medical Center is a Comprehensive Stroke Center, reflecting the highest level of competence for treatment of serious stroke events. Riverside Regional Medical Center is currently the only hospital in Southeastern Virginia to maintain comprehensive stroke certification, and among five percent of hospitals nationally.
RRMC has also been recognized by the American Heart Association/American Stroke Association with its Get With The Guidelines® -Stroke Gold Plus Quality Achievement Award. The award recognizes the hospital's commitment to ensuring stroke patients receive the most appropriate treatment according to nationally recognized, research-based guidelines based on the latest scientific evidence.
Riverside Doctors' Hospital Williamsburg, Riverside Walter Reed Hospital, and Riverside Shore Memorial Hospital are certified Primary Stroke Centers. These hospitals have a dedicated stroke program with specially trained medical professionals, individualized care plans for patients, and a strict adherence to the latest evidence-based stroke center care.
These certifications are evaluated on an annual basis, so the Riverside Stroke Centers are always reviewing and improving the care they deliver to stroke patients.
If you suspect a stroke, call 9-1-1 immediately and ask to be taken to a certified stroke center.