At 99, there's no place Sadie Carson would rather be than Magnolia Manor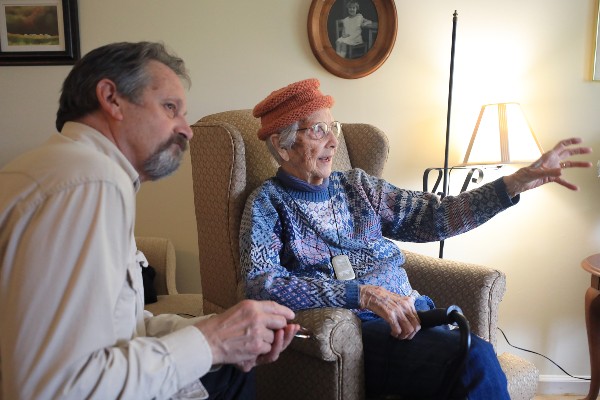 Meet Our Residents and Team Members
Charlie Carson lives in Montana's cattle country, what he calls another planet from eastern Virginia, where his 99-year-old mother, Sadie, resides at Magnolia Manor, located at Riverside's Healthy Living Community Smithfield.
Many children might worry about their aging parents in a long-term care facility during a pandemic. Charlie never has.
"They love her and treasure her. She'll be 100 on Veterans Day," he says. "I'm confident she'll be there. So is she."
Charlie Carson, 66, didn't research a bunch of assisted living places on behalf of his parents. One afternoon, his mother called with news. "This is our new address," she said.
She made the decision to move to Magnolia Manor at Riverside Healthy Living Community Smithfield a decade ago. John Carson transitioned to The Garden, which provides skilled nursing care — "They took beautiful care of him there," Charlie says.
When John died at age 93 in 2014, Sadie moved back to their Wakefield home in Sussex County, where the Carson family dates back 300 years. She didn't stay long.
"It was her decision to go back to Magnolia Manor," he says. "Just like the first time, I was never involved in that. She likes it because it's small and more intimate. Her contemporaries went to big fancy facilities with rosewood cabinets. She like it where she is. The fact that she went there not once but twice, that's something of a testimonial."
Sadie Carson has outlived many of her friends. Those losses have been hard. Many of the friendships she holds dear are with staff., which has minimal turnover.
Every staffer knows Sadie.
"She uses a walker, but she's not at all feeble for 99," says Martha Hunt, Director of Resident Services & Marketing and in her 36th year at Magnolia Manor. "She's very social. She likes a glass of wine. At one time, she was my cornhole champion."
Every staffer also knows Charlie.
"They know my voice when I call," he says. "The staff is stable. They're not hiring a lot of temps. They care about her there. And she cares about them. They're compassionate and understanding. I think that's easier to accomplish in a smaller facility
Typically, mother and son speak nightly, each married to their flip phones. Charlie has to get outdoors to talk as reception can be spotty. "We have brilliant conversations," Charlie says. "She's the most graceful and diplomatic person I've known in my whole life."
Charlie spent almost all of April and part of May visiting his mother in person. Despite the pandemic, he's been able to spend nearly every day with her. He savors the time — recalling what he refers to as a "Leave it to Beaver" childhood that he didn't fully appreciate growing up. "My mother is beyond my mother now," he says. "What an inspirational human she is."
Sadie never let go of the family home. When Charlie comes, it's his lodging. Sadie joins him there for meals, but prefers to spend the night back at Magnolia Manor, where she knows the layout of the room with her eyes shut.
"We eat our favorite foods and sit on the porch swing," he says. "Last night it was Caesar salad, five pounds of steamed shrimp and spoonbread. Mama usually drinks a beer, too. Last night she had two. Always Heineken."
Sadie used to bake the spoonbread; now Charlie mixes up the recipe that's been affixed to the refrigerator door for as long as he can remember. It's a simple treat as long as you have the right cornmeal; it must be white and finely ground. When he's home in Montana, the altitude messes with the ingredients in the oven. "It's more of a flatbread there," he says. "But in Virginia, it's pretty damn delicious."
Sadie Carson is double vaccinated and feeling well. She never spent a moment worrying about her own health during the pandemic's height.
That's reassuring for a son thousands of miles away. Whenever he asks her if she'd like to move elsewhere, she responds, "I'll let you know."
He doesn't expect it, though, because she's already home.