This Riverside occupational therapist knows how to make folks laugh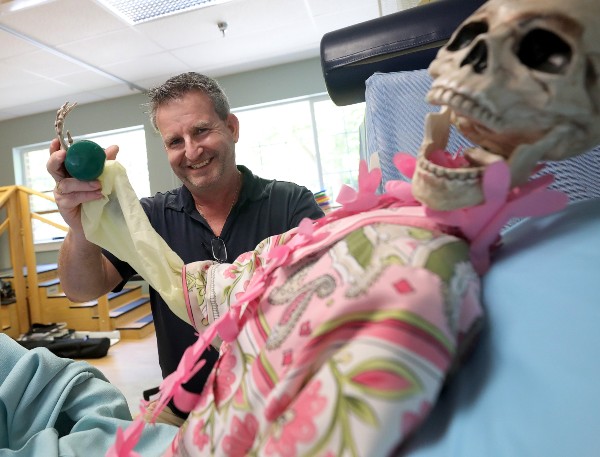 Meet Our Residents and Team Members
Mike Power's story
Mike Power has skeletons in his closet.

To the delight of the Patriots Colony residents undergoing rehab at the Riverside retirement community, the former New York City police officer turned occupational therapist shares them often.

It's not unusual to find the demo skeletons dressed to match the season, whether it be a Santa's hat for Christmas or bunny ears for Easter. One morning after Easter, patients were surprised to see the skeleton wearing a Hawaiian shirt and bunny ears positioned to do crunches to work off all of that holiday candy. The skeletons can be anywhere in the rehab areas; sometimes he even places them on equipment.

Power's humor keeps his coworkers and patients smiling throughout the day. The Irishman loved a good gag during his two decades with the police department, where some days could be grim. He was driving across the George Washington Bridge when the towers fell during 9/11.

"It's the busiest bridge in the world and I was the only one on it," he says. "You could look downtown and see the buildings burning."

The pandemic has also kept staffers and residents on edge; Power does his part to lighten the mood.

"I have a couple of skeletons that I brought in for Halloween and the ended up staying here and I dress them for whatever the occasion is," he says.

That includes everything from St. Patrick's Day — remember, Power is Irish — to COVID. One morning, one of the skeletons turned up in a mask, gloves and gown, PPU humor at its finest.

Power has also been known to change up the computer screens of his co-workers with funny memes in an effort to bring a giggle. One recent meme that made the rounds, "My doctor said now that I'm older I need to install a bar in the shower." The accompanying pictures includes a bottle of Jack Daniels above the shampoo in a walk-in shower.

Being creative is an outlet for Power, too. When he retired from the NYPD, he considered physical therapy but chose occupational therapy instead because it allowed him more freedom to do his own thing — bones and all.