Staff's little extras add up big to family, residents at Sanders Retirement Village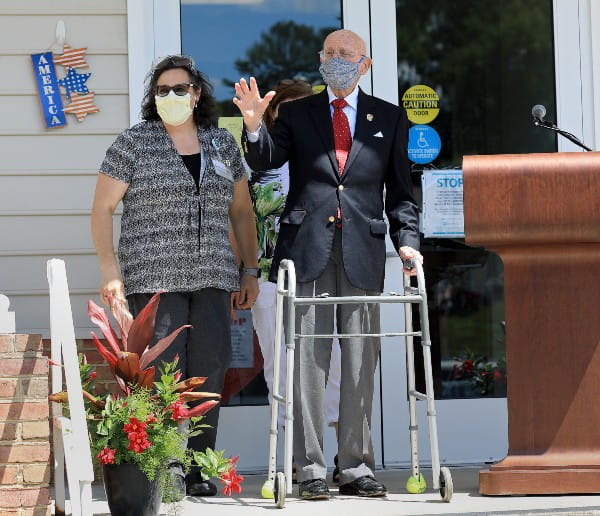 Meet Our Residents and Team Members
Try slowing down Ellis Hall.
He uses a walker — he just turned 103 after all. But even his son, Fred, will joke that sometimes it seems like a prop.
"Sometimes he just picks the walker up and carries the thing," Fred says.
Gloucester-born Ellis Hall lives in an assisted living apartment at Riverside Sanders Retirement Village, his home since July 2018. None of the residents at Sanders contracted COVID-19, obviously reassuring to Fred. But his gratitude for the Riverside staff extends beyond that.
"The staff is phenomenal," he says.
Ellis Hall loves people. When pandemic restrictions relaxed, he returned to his routine of visiting the TV and piano rooms during the day to socialize with staff and residents. Almost every time Fred calls, his dad doesn't answer because he doesn't stay confined to his room. A staff member is always willing to take a few minutes to track Ellis down so he can connect with his son.
Last May, when Ellis turned 102, the pandemic was still relatively fresh. The Hall family put together a celebratory video that the staff watched with Ellis. The family had a cake delivered, and several family members gathered by his window.
"The staff was so good," Fred says. "They brought in the cake and sang to him right there. We were at the window. Under the circumstances, the staff went above and beyond. It was pretty neat."
Ellis Hall has always been a fastidious dresser, dating back to his days in the furniture business. He prefers his shirts and slacks cleaned and pressed. One of Fred's cousins drops by to retrieve the laundry that staff gathers for him to take to the dry cleaners. As Ellis tends to leave his things lying about, it's not a quick task.
"The staff is always doing those little extras," Fred says.
When Ellis needed to see an ear doctor with a second floor office, Fred didn't have to worry about his dad navigating stairs or an elevator on his own. "The driver went in with him and got him upstairs and stayed with him," Fred says.
When Ellis cracked his hearing aid, a staff member delivered it to an audiologist for repair.
"I couldn't get down to do that right away," Fred says. "I am most appreciative of the staff taking the time to do that."
Last July Ellis received recognition from the Virginia General Assembly. Joint Resolution No. 305 commended his life's work and accomplishments. With visitation still limited, Riverside staff arranged for Del. Keith Hodges and the Hall family to set up a makeshift ceremony in the parking lot ceremony so Ellis could participate.
"That was something so above and beyond normal activity; we're so appreciative for that," Fred says, adding, "Dad is in exactly the right place with the right staff."