Dr. Nancy Littlefield began her nursing career more than 35 years ago when she wanted to have a career where she could make a difference in the lives of people. Today, Nancy affirms that her career has given her this opportunity. "Being a nurse and having a career in health care has allowed me the privilege of this."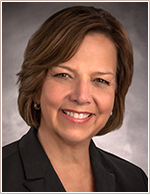 Nancy came to Riverside Health System in 2014 as Chief Nursing Officer. Today she also serves as Executive Vice President. She has responsibility for the oversight and coordination of nursing and clinical practice across Riverside Health System. She, as well as the thousands of other nurses in the Riverside family, are chosen for their empathy, ethics and clinical expertise. Each of our Riverside nurses are committed to the Riverside mission of caring for others as they would care for those we love.
Prior to coming to Riverside, Nancy held executive positions in both acute and ambulatory care. Her love of nursing and health care comes honestly as the fourth generation nurse in her family. Nancy received her Diploma of Nursing from Thomas Jefferson University in Philadelphia Pennsylvania, her Bachelor of Nursing from George Mason University in Fairfax Virginia, her Master of Healthcare Administration from Virginia Commonwealth University in Richmond, and her Doctorate in Nursing Practice from Old Dominion University in Norfolk.
"The complexity and changes of health care delivery will always be constant. As leaders in health care we must remember that those we are so privileged to care for and serve, must stay in the very center of everything we do."
Were you born to lead?
Explore nurse leadership at Riverside. Click here.