Frankye joined Riverside Health System in March 2022 as Chief Nursing Officer (CNO) and brings more than 30 years of leadership experience in the coordination of patient care, quality, education, and clinical operations. Prior to joining Riverside, Frankye was a healthcare executive at a company she founded where she leveraged her leadership and clinical skills to gain accreditation and licensure of a skilled nursing agency, among other key accomplishments.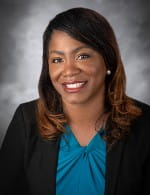 In addition to her experience in medical staff relations, recruitment, and employee engagement, Frankye brings eight years of academic leadership experience in nursing education to her current role. She held key leadership roles at HCA John Randolph Medical Center and Chippenham Johnston-Willis Medical Center, where she was CNO for nine years. Previously, Frankye worked at VCU Health System, where she worked as adjunct faculty in the School of Nursing..
Frankye has a Master of Science in Nursing with a focus on Nursing Administration from Barry University. She completed her Nursing Administration internship at Coral Springs Medical Center in Florida. Prior to her internship, Frankye earned her Bachelor of Science in Nursing at Barry University in Miami Shores, Florida.
In addition to her role at Riverside, Frankye is the former VNA Chapter 5 President Elect and the former Commissioner of Nursing Practice Elect. Frankye is a member of Sigma Theta Tau International Honor Society of Nursing, and the American College of Healthcare Executives (ACHE).
Were you born to lead?
Explore nurse leadership at Riverside. Click here.