You now have the option of secure, private video visits with your Riverside Medical Group physician or advanced practice provider through MyChart using your smartphone or mobile device. If you are interested in this option, contact your provider's office or call 757-534-5352. You can also send an appointment request through MyChart. Our nurses and schedulers will help you determine the best setting of care to address your need.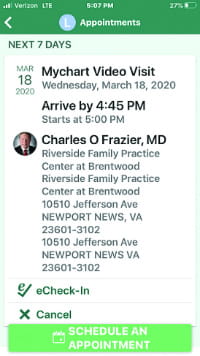 Here you will find the steps you need to take to be sure you are prepared to use your mobile device for your Video Visit.
Mobile device: What you'll need
Smartphone or mobile device with a webcam
Internet access
Riverside MyChart App
Your appointment for your Video Visit will show in your Riverside MyChart App.
If you have issues logging in to Riverside MyChart, contact the Support line: 757-534-9440, Monday to Friday from 8 a.m. to 5 p.m.
If you have any issues connecting to your Video Visit, contact your provider's office.
What to do before your visit
You should complete these steps at least a day before but no more than seven days prior to your Video Visit.
Step 1: Download the MyChart application to your smartphone or mobile device:

App Store (iPhone, iPad)
Google Play (Android devices, Kindle, LG, Motorola, Samsung)
Step 2: Complete eCheck-In and Confirm your appointment. We recommend completing these from the MyChart App on a PC for easier navigation. However, if you use the MyChart mobile app, follow these steps:
Log in to the MyChart mobile app.
Select the Appointments icon.
Click on your appointment to open the appointment details.
If you get a pop-up to complete eCheck-In, select Not Now.
Scroll down to select Confirm Appointment.
Select eCheck-In (eCheck-In is required before you can begin the visit).
What to do on video visit day
Your Video Visit appointment will take about the same amount of time as if you were in the office.
Step 1: Find a quiet, private place to have your appointment.
Step 2: Be sure your smartphone or mobile device is fully charged or plugged in.
Step 3: Log in to MyChart about 15 minutes prior to your appointment. Tap the calendar icon for Appointments. Tap the Mychart Video Visit appointment.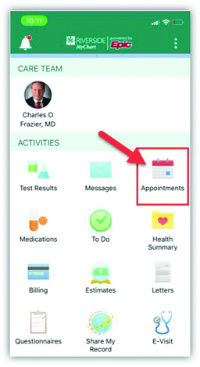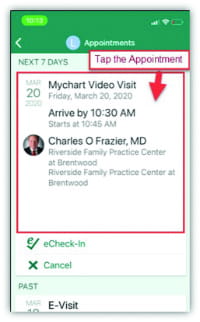 Step 4: When the time of your appointment arrives, tap the top of your appointment, then scroll down to the bottom of the screen and tap the green Begin Visit button.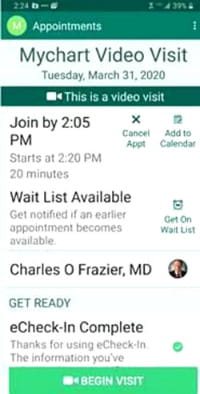 You will be placed in our virtual waiting room until your doctor or advance practice provider arrives, then your visit will begin.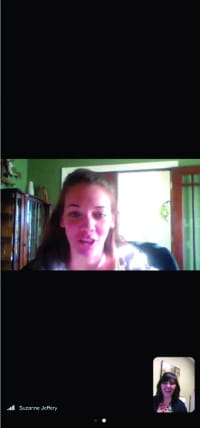 Questions?
If you have any questions or concerns, please call your doctor's office. If you are using a laptop or personal computer, your screens will look slightly different: Video Visits in MyChart for desktop.