Leading the Next Generation for Memory Care Excellence
The Goodson family is leading the way to expand memory care services and resources at Riverside Health System. Both Martha Carter White Goodson and her husband G. Royden Goodson III inspire others by sharing how early-onset dementia changed their lives forever.
Both were born at Riverside hospitals and as life-long residents of the area, raised their family in Newport News. Life was busy and good, but when Mr. Goodson noticed his wife was showing some concerning lapses in memory and difficulty with routine tasks, they went to their Riverside doctors – and sadly, received devastating news. Mrs. Goodson was diagnosed with Alzheimer's disease – at only 57 years old.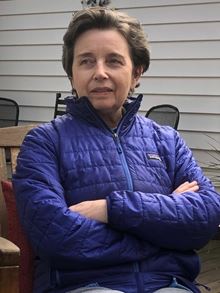 Mr. and Mrs. Goodson navigated the alarming path of learning there is no cure or treatment options for this debilitating disease. But, with a dedication to each other and an abiding faith, they overcame the care challenges by seeking help and guidance from the memory care team at Riverside. They learned how to manage the ups and downs of the illness - and caregiving. In gratitude of the tremendous support received from their care team, the Goodson family generously donated the funds to establish the Martha W. Goodson Memory Care Center at Riverside – to help and support others in the same circumstances, providing hope and encouragement every step of the way. This gift is the largest individual charitable contribution received by the Riverside Foundation to date.
Adding Strength to Strength
Riverside Health System's Neurological and Spine Institute has extensive clinical capabilities. Still, the Goodson family was forced to accept there are no medical answers and no ground-breaking research to solve this overwhelming disease. So, Mr. Goodson adjusted his goal to become the very best care partner he could be for his wife.
Meeting with Riverside health professionals helped Mr. Goodson learn what to expect as the disease progressed and how to best support his wife through her illness. Adding incredible strength to an already strong neurological program, he worked with Riverside nursing leadership to establish unique and positive memory care services to support patients and caregivers, including:
Memory Care Academy builds dementia awareness, knowledge and skills for long-term care staff members.
George T. Spain Memory Care Navigator Program, funded by a generous donation by Steve Spain in honor and memory of his father, provides dedicated navigators to guide patients and families every step of care.
Purple Flower Program trains staff in Riverside acute care facilities to better support people living with dementia who come under their care. This program is being expanded to include first responders, who are frequently called into situations with families living with dementia.
Essential Caregiver Program at Warwick Forest and Patriot's Colony allows qualified family members to enter the facility to help care for their loved ones during restrictive times such as COVID or lockdowns.
Extending Caregiver Support Resources
Finding opportunities to help others on this same journey, Mr. Goodson found he could provide caregiver support by talking to others in the same circumstances. He found solace in helping them get through the initial state of shock and grief, moving on to talking through managing caregiving for a loved one, especially the added emotional difficulty of caring for a much-loved spouse. The Riverside Center for Excellence in Aging and Lifelong Health team is a valuable resource to help understand what you need to know and how to provide caregiving support.
As he listens to others share their stories, he communicates these critical steps of caring for loved ones with dementia:
Step One: Know the disease, including the truth that it is progressive, chronic and sadly, leads to death due to the gradual deterioration of the brain's capabilities. Your loved one is losing the ability to function properly, and it takes a great deal of mental and emotional energy to live with this disease.
Step Two: Learn how to be a caregiver, allowing your loved one to be safe, but retain as much independence as possible. If necessary, find an environment where your loved one feels safety, love, peace and often, contentment.
Step Three: Caregivers need to learn to take care of themselves, including their emotional core. This journey is so draining that you must pull together a team to help. As a caregiver, you need encouragement and support to retain the patience and strength to keep going.
Giving Inspires Giving
As devastating as this disease is to his family, Mr. Goodson chooses to stay positive and hopeful by honoring his wife through a gift to the Riverside Foundation. As a result, he finds himself in a position to help others in the Riverside communities by providing access to the education, support and resources that he continues to use daily. His gift is partially inspired by Mr. Steve Spain's gift establishing the George T. Spain Memory Care Navigator Program – and he hopes he will inspire others to pay it forward based on his contribution. Giving inspires giving – with time, talents, donations and service. The Riverside Foundation is so grateful for gifts such as these that fuel Riverside's mission to care for others, always reaching for a higher standard of care.
How to Honor Loved Ones
If you or your family would like to honor or remember loved ones, our Foundation has numerous ways to support the remarkable work at Riverside – through making a gift, attending an event or recognizing a caregiver. Please contact us for questions or more information.