Cervical cancer survivor Susan Beulow of Tabb is grateful for the care she received from Dr. William Irvin. "I'd recommend him to anybody." she said.
She just didn't think she'd have to recommend him to her own daughter only two years after her own journey.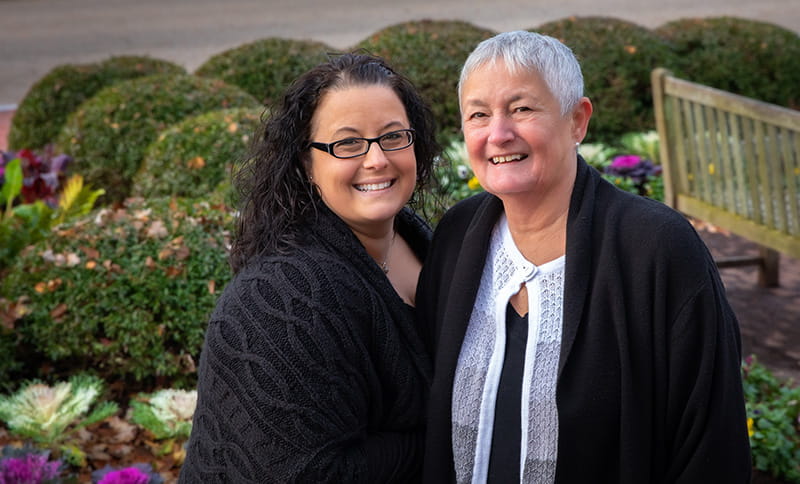 Lisa was referred to Dr. Irvin after a suspicious Pap test result in 2011. He diagnosed the 60-year-old with cervical cancer. Susan underwent surgery followed by radiation therapy to eradicate her cancer. "Dr. Irvin is a wonderful doctor," Susan says. "His whole staff is, too. He was really good about explaining everything to me and my husband."
Lisa Martin lives two doors down from her mother, Susan. At age 37, nine years since her last gynecologic exam, Lisa experienced severe cervical bleeding. When her gynecologist recommended a specialist, Lisa's mom was adamant that she see Dr. Irvin, who immediately evaluated her and ran some tests.
But before Lisa's results were back, complications resulted in an ambulance trip to Riverside Regional Medical Center, where Dr. Irvin found a mass on Lisa's cervix and scheduled a hysterectomy. "He came in the morning of the surgery and he had gotten the test results back — it was cancer," Lisa says. Advanced almost to stage IV, the disease now required a radical hysterectomy, which Dr. Irvin performed that day.
"When my daughter found out," Susan says, "Dr. Irvin explained that it was not my fault — it was not hereditary."
"He is a wonderful man," Lisa agrees. "I think knowing that my mom had gone through it with him, I was just already so comfortable because he knew the family already. He is the best."
Lisa also underwent radiation and chemotherapy at the Riverside Cancer Care Center in Newport News. "It was all done right there at Riverside, all in one building right there by Dr. Irvin's office, so it's perfect," Lisa says. "And they worked it out really well so all of my appointments were in the same day. With all that I was going through, all the way across the board, Riverside has been excellent. They took good care of me and took good care of my mom."
Five years later, Lisa is quick to encourage all her female friends to keep up with their annual gynecology exams. And thanks to Riverside, both mother and daughter are cancer-free.