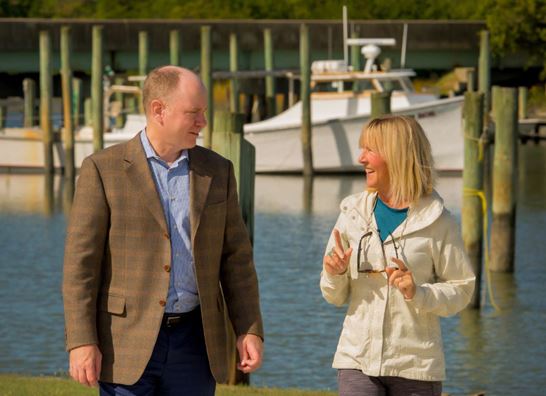 Sarah Trachy's story
When a routine mammogram at Riverside Shore Memorial Hospital led to a breast cancer diagnosis for Sarah Trachy, she was grateful that the condition was detected early.
Sarah appreciated the encouragement and clinical expertise of her radiation oncologist Dr. Jefferson Moulds. He knew that her positive attitude was an important factor in her recovery, so he encouraged her to keep up her long-standing commitment to exercise even during breast cancer treatment.
Luckily for Sarah, the hours she saved by getting care close to home meant she had even more time for running and exercise.

Rachael Fluhart's story
You wouldn't think something as small as the size of a pencil eraser could turn your world upside down, but for Rachael Fluhart, that's exactly what happened.
Rachael attended a Riverside skin cancer screening in October of 2017. She was referred to a dermatologist after a small spot on her back, about the size of a pencil eraser, began to bother her. The suspicious spot was removed and sent for testing. She was shocked to find out that at 21 years old she had skin cancer. Melanoma.
"After that, things moved very quickly," Rachael said.
There were additional procedures to remove more tissue, helping to ensure they had gotten all of the cancer cells, and a biopsy of her lymph nodes. She then received even worse news. The melanoma had spread. She had invasive nodular metastatic melanoma.
So just as Rachael was graduating from nursing school and taking her nursing exams, she was also dealing with a major health crisis. Her treatment included removing all of the lymph nodes on her left side, and now she's undergoing targeted immunotherapy at the Riverside Shore Cancer Center.
Rachael remains upbeat despite all the setbacks caused by that tiny little spot. "Staying positive has been a goal of mine through all of this. I feel like the mental part is half the battle of a cancer diagnosis."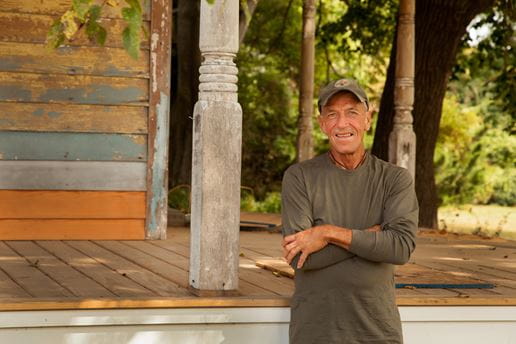 "The whole experience created an atmosphere of healing for me."
Walt "Skip" Bennett's story
This past winter I was working on the water as usual. Along with aquaculture, scalloping and sea clamming is what I've been doing for most of my adult life. I've been all up and down the Atlantic coast. It's definitely hard work, sometimes in tough conditions, but I generally felt strong and healthy while I was doing it. During those winter months though, I was really dragging. I kept thinking I'd start to feel better but it didn't happen. Things only got worse so I finally went to the doctor. The diagnosis was Hodgkin's lymphoma, a type of cancer that has a big impact on the immune system.
I had my initial treatment across the bay but was able to get back to the Shore right after that for the rest of my chemotherapy which turned out to be a very good thing. I was born in Nassawadox and raised in Cape Charles. My family and friends are in this community, so being able to get back home mattered a lot to me. Given the way I was feeling some of the time during chemo, not having to travel back and forth was a real plus.
Once I started at the Riverside Shore Cancer Center, Dr. Stith let me know that this was a treatable disease, something that I could come back from. That kind of positive thinking really lifted my spirits. Getting that kind of support and very close personal attention has been as important in helping me beat the lymphoma as the treatment itself. During the whole time I was there, everyone at the Cancer Center was very professional but also very comforting. The place, the people, and the whole experience created an atmosphere of healing for me.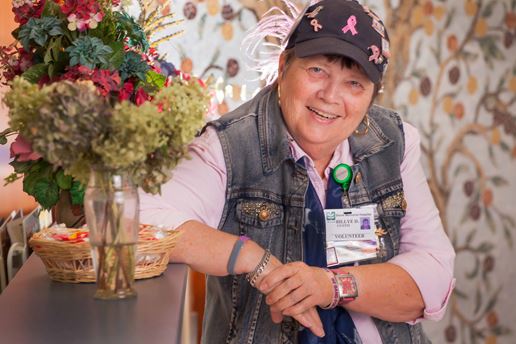 "I really don't think I could have made it if I had to cross the water."
Billye D. Custis's story
I've lived in Onley all my life. I've been on the town council and I've been the mayor, so being involved in the community is something that's part of who I am, something that I take very seriously. That's part of the reason why when I was diagnosed with breast cancer, I wanted to stay close to the people who have been part of my work, my life and my support all these years. The other part is that I knew I would get the kind of care I needed to get back to my family and friends as healthy as possible.
At the Riverside Shore Cancer Center I was a name, not a number. I felt valued not only as a patient but as a person. And I felt a real sense of compassion that came along with the staff's skills and training. Starting with my mammogram and biopsy and going through surgery and chemotherapy I was able to travel just a short distance to get treatment. I was tired and slept a lot during that time, kind of in the "chemo fog" that people talk about. I really don't think I could have made it if I had to cross the water.
The kind of care I got and the overall experience led me to become a volunteer at the Cancer Center. I listen to people describing their own experience and I talk a bit about what I went through. Someone will say, "I'm feeling this or I'm feeling that" and I'm able to share that world with them, we're able to be on the same page. I believe that if I can help one person it's all worthwhile. So having a healing place close to home made a difference in my treatment. And now it's making difference in my ability to give something back to the people and the community I'm part of through volunteering.