Above all, the story of the Riverside Shore Memorial Hospital Auxiliary is founded on a love of Virginia's Eastern Shore and those who call it home. Before a single brick was placed for a hospital in this region, the first Auxilians were already hard at work gathering support and funds.
Today, the scope may be different, but the passion is the same. Our Auxiliary members work to improve the care and services available at Riverside Shore Memorial Hospital through fundraising efforts and special Auxiliary events throughout the year.
The vast contributions of the Auxiliary have facilitated improvements in nearly every area of the hospital, from refurbished waiting areas and patient rooms to new surgical and diagnostic equipment. The hospital Gift Shop is also completely staffed by Auxiliary volunteers.
If you would like to learn more about becoming a part of the RSMH Auxiliary or are interested in volunteering at one of our exciting events, please read more about membership.
The Riverside Shore Memorial Hospital Board of Directors recognizes the dedicated support of the RSMH Auxiliary: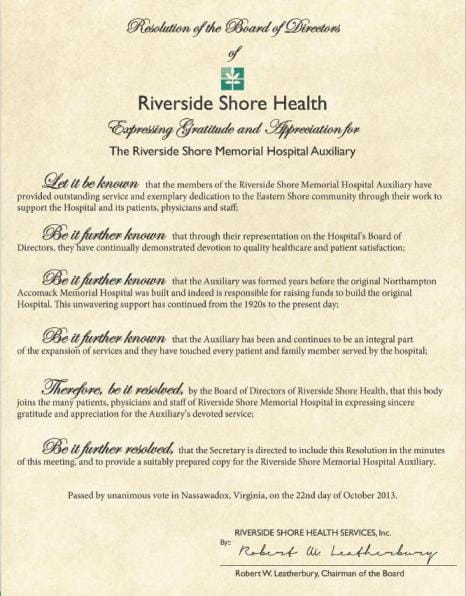 Our History
The organization now known as the Riverside Shore Memorial Hospital Auxiliary actually began in the 1910's before the hospital even existed. A hospital on the Eastern Shore of Virginia was a dream that originated with Dr. William J. Sturgis Sr. After a meeting held by Dr. Sturgis in Nassawadox to begin organizing for a new hospital, Bessie Anderson, a recent widow whose husband died due to appendicitis, was determined to bring Dr. Sturgis's dream to fruition.
Mrs. Anderson organized the Hospital Auxiliary and was the driving force behind its unwavering efforts to raise enough funds, dollar by dollar, for a local hospital. Auxilians canvassed door to door for donations. Some people who did not have a spare dollar or two to donate would instead bake cakes for bake sales. The support of Eastern Shore residents continued to grow, with door to door donations totaling $2,000 one year.
As the Auxiliary members raised funds, they purchased bricks and windows as they were able, storing them in a barn until construction advanced to the point where the items were needed. Six Auxilians even took out personal loans to begin assembling the bricks up to the second floor.
The result of the tireless efforts of these original Auxiliary members was Northampton-Accomack Memorial Hospital, a 25-bed facility that opened in 1928 and served as the first hospital on Virginia's Eastern Shore.