Getting Started with Adult Day Services
Getting Started with Adult Day Services
Recommending adult day services to a loved one may seem uncomfortable, especially if they are reluctant to attend the program. To help you get started, we've compiled a few tips for families beginning this process and a list of frequently asked questions.
Keep in mind that there is no "best" approach. An individual's acceptance of adult day services depends on many factors, including personality, level of hesitance, functional level, mental status, relationship with the caregiver, experience in a social setting and understanding of adult day services. This means that the approach you use could be completely different than the approach taken by someone else. Whichever approach works for you is the right one.
When discussing adult day services with your loved one, it may be helpful to refer to it as a "senior club" or "social center." Some participants like to think they are going to "work." If so, tell them they have an important job to do at the center. Our goal is to help participants get the most out of each day.
Explain the benefits of adult day services to the participant. Show them the activities and events schedule and emphasize the programs they might enjoy. You can also tell them about the new things they will be doing and all the new friends they will be meeting.
Explain the benefits of adult day services as they relate to you, the caregiver. By emphasizing your needs (whether personal or work related), your loved one may begin to see this transition from your perspective. Also, let them know that their participation may actually enable you to spend more quality time together.
When necessary, don't be afraid to be firm with your decision. It may also be helpful to say that the participant's physician has recommended his or her participation.
Start by signing up for just a few days a week or only a few hours each day. In most cases, it won't be long before the participant is eagerly asking, "Is it time to go to the center yet?"
And remember, we are here to help. If you would like additional guidance or have any questions, we are just a phone call away.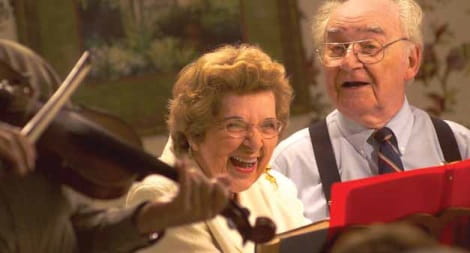 Frequently Asked Questions
What is Riverside Adult Day Services?
The Riverside Adult Day Services center provides a safe, secure and stimulating environment for loved ones when family cannot be with them. Our center offers supervised programming and special events, as well as assistance with personal care needs. At Riverside, we take great pride in selecting experienced, qualified, caring individuals to work with your loved ones.
Who is eligible to participate?
Specific state requirements include individuals who are:
currently living in a home environment without adequate daytime supervision or in a home environment where a family caregiver needs time away
capable of continence or participation in incontinence maintenance
free from narcotic medication
capable of understanding and following simple instructions
medically stable
able to bear weight for a transfer assist with a mechanical lift
Are meals provided?
Yes. We provide a hot noon meal that meets proper nutritional standards and an afternoon snack. A continental breakfast is available in the morning for early arrivals.
Are special diets included?
Generally, our meals are low in salt, fat and sugar and already follow the guidelines of many special diets. Some substitutions are easy to make to help participants adhere to their diets; we may ask that you provide certain items. If the participant has any special needs, please let us know and we will do our best to accommodate you and your loved one.
Are medications administered?
Yes, our staff administers medications at the proper times as prescribed by the participant's physician. Our staff is certified in Medication Management through the Commonwealth of Virginia.
What is the atmosphere like in the Center?
Participants enjoy a warm, homelike environment complete with comfortable furnishings and an inviting kitchen. The delightful aromas of fresh bread or cookies baking often fill the air. In the winter, a warm fireplace is a cozy spot to start the day and in the summer, open windows fill our center with fresh breezes. Participants can spend time in a spacious courtyard with flowering plants and vegetables planted by their friends from the center. And if someone needs a rest during the day, a comfortable bedroom is available. Our location is also handicap-accessible.
Is funding available to pay for adult day services?
Most families pay for adult day services out of the participant's financial resources or their own. However, some assistance is available through the following agencies.
Medicaid covers some of the costs for those who qualify. Contact your local Department of Social Services for more information.
The Peninsula Agency on Aging has funds available through their scholarship program for adult day services. For details, call the PAA Intake Department at 757-873-0541.
The local Alzheimer's Association has limited funds available for qualifying individuals. For details, contact the Riverside Adult Day Services Director at 757-875-2033.
When is payment due?
Participants are billed at the end of the month for the days they attended the program. Payment is due within 10 days of receiving your bill.
Is there a minimum or maximum number of attendance days?
No. Simply choose which days and times work best for your schedule.
What is the participant/staff ratio?
Our center has one staff member for each six participants. Staff members include a recreational therapist, certified nursing aides and a program director. We also have a registered nurse who makes scheduled visits to check on each participant.
How many participants attend the program?
Our Newport News Adult Day Services Center is licensed for 48 participants per day.
Is transportation available?
Yes, the Peninsula Agency on Aging provides some transportation, depending on location. Call PAA at 757-873-0541 or our center for more information. Handi-Ride also offers trips to and from the center when you purchase tickets. For more information, call 757-455-8010. Some cab companies also provide service for Medicaid recipients.
How do I register my family member?
A physician will need to complete a History & Physical form. We also require that participants have a negative TB test or chest X-ray that states they are free from communicable diseases within the past 30 days prior to starting the program. Following receipt of these forms, we will contact you to schedule a personal interview.
If you have any additional questions, please call us at 757-875-2033 or visit our center.