How Riverside Helped Sam and Maxine Stay Together
Sam Pinello and his wife were both cared for by the Riverside Home Health team.
This is really a story about both my wife Maxine and me, but I'm the one that's left to tell it. I'll keep it short, but I have to start at the beginning. I was stationed at a U.S. Air Force base in North Carolina when we had to evacuate because of an approaching hurricane. We ended up going to Nashville and that's where I met Maxine. So for us, love rode in on a storm and we felt that we were brought together by destiny.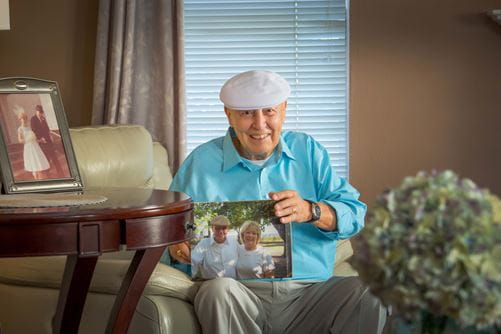 Not long after we met I was sent to Vietnam in the very early days of the war. Unfortunately I was exposed to Agent Orange and it's had a negative effect on my health over the years. After I left the military, Maxine and I got married and had what we Italian Americans call una buona vita – a good life. We had three daughters and greatly enjoyed our family and friends. Over time we developed various health issues, including some chronic conditions that required medical treatment.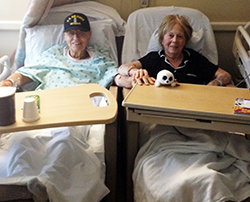 Once, we were both patients at Riverside Regional and were four rooms apart. We'd get the staff to pass our notes between the rooms. After a while, we talked our way into being able to share what was then a semi-private hospital room. I'm guessing that was a pretty rare occurrence but it worked out for us and we were glad to be together.
I was the primary caretaker for my wife during some of her illnesses but eventually we needed help from home care. As it turned out, several of the same people provided care for both of us since we had medical problems at the same time.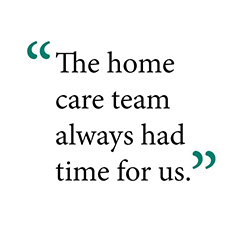 Maxine and I were consistently pleased with the home care team. They set a high standard right from the start and kept it up the whole time they were with us. They were always on time and very dedicated to their work. And they always had a smile and a kind word. Although everyone on the team was excellent, three people – Kelly Gilbert and Ashley Leggette, both nurses, and Amanda McSwain, a physical therapist – stand out for their exceptional skills and warmth. They were wonderful with Maxine and they helped me stay as mobile as possible and get good palliative care.
After my wife passed in May of 2017, I moved in with one of my daughters who's a pediatric nurse. I have some very serious health challenges, but I stay hopeful and am grateful for what I've been able to experience and share. Like I said, it's been una buona vita.
Have Questions? Contact us for more information.
757-534-6161