How Hospice Helped David Take Care of His Wife
David Avent's wife Irene is being cared for by the Riverside Peninsula Hospice team. David talks about his and his wife's experience.
When you're taking care of a loved one, you realize pretty quickly that you have to take care of yourself, too. If you're stressed out or exhausted, you aren't much good to anyone else. After my wife, Irene, had a series of strokes I was her primary caregiver. We had some help from family and friends but most of the time I was the guy. As time went on, and after several ER visits and hospitalizations, she was discharged with serious paralysis. Her overall condition was declining. At that point, we had a home visit from Dr. Teresa McConaughy who recommended that Irene receive hospice care.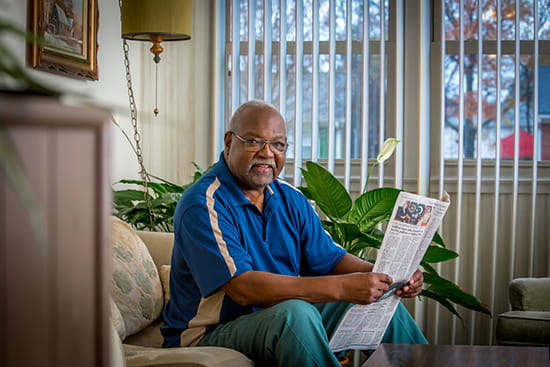 Now an aide comes by three times a week to help with bathing and other needs and the nurse comes to take her vitals and see if she needs anything to help her be more comfortable. Throughout this time, the hospice team has supported me in taking care of her and taught me some things that makes it all a little easier. My wife can communicate fairly well, so we still have some good moments together. But there have been times when she's shown strange behavior toward me, even thought I was trying to harm her. That's been very painful for me. The hospice team helped me understand that these changes were brought on by damage caused by the strokes and had nothing to do with me or her normal behavior. That was a real comfort.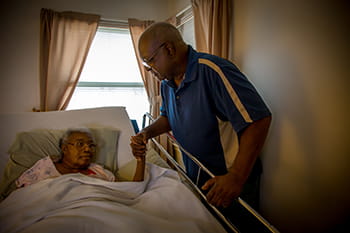 What also helped was that Riverside arranged for us to get some respite care for a few days. During that time, the hospice team followed Irene to the facility while I got a little break. She had the same people caring for her even though she wasn't at home, so she got consistent care from people she knew. And I was able to recharge my batteries knowing she was in good hands, so the respite care worked out well for both of us.
My wife and I have been married over 60 years. We've had some wonderful experiences and I'm grateful for whatever remains. It's a tough time now, a sad time, but I can truly say that hospice has helped both of us move through it.
Have Questions? Contact us for more information.
757-534-6161