Our registered dietitians help transform the latest advancements in medical nutrition into practical tools that can improve your overall health and quality of life. We design our nutrition therapy sessions to meet your individual needs for recovery, disease management and health.
The RDs offer private and group consultations in nutrition education, nutritional status evaluations and follow-up sessions. Learn how to reduce cholesterol, control hypertension, lose weight or better control other medical conditions through healthy eating and lifestyle. Setting goals and making plans for healthy habits are also included.
Outpatient nutritional referrals can be made by your physician or physician office by calling Central Scheduling at 757-989-8830, option #2.t
About our registered dietitians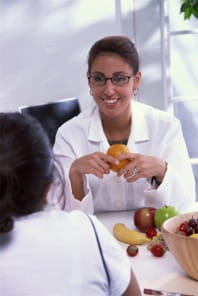 Have a minimum of a Bachelor of Science in foods, nutrition and/or exercise
Are registered by the Academy of Nutrition and Dietetics
Are credentialed by the Commission on Dietetic Registration
May hold graduate degrees including a master's and doctorate
May hold additional certifications such as certified diabetes educators, or CDE, and Certificates of Adult Weight Management
Provide nutrition counseling and education for a wide range of medical diagnoses for all age ranges by using the nutrition care process of assessment, nutrition diagnosis, intervention, monitoring and evaluation
May counsel patients receiving nutrition support through enteral (tube feeding) and parenteral (intravenous feeding)
Locations for outpatient clinical nutrition services
Riverside Walter Reed Hospital
7516 Hospital Drive
Gloucester, VA 23061
804-693-8800
Services:
Individual and/or follow-up nutrition sessions are available through Riverside Walter Reed Hospital for patients with diabetes, gestational diabetes, pre-renal, and cardiac concerns. One-hour initial sessions and 1/2-hour to one-hour follow-up sessions are available. Patients will gain knowledge on weight management, meal planning, portion control, snacking, reading food labels, and recipe modifications. A physician referral is needed prior to scheduling an appointment with the registered dietitian.
Scheduling:
804-693-8865
Fee information:
Individual, follow-up and group sessions are $102 per hour
Insurance billing: Yes; insurance copayments are due at the time of service
Riverside Diabetes Services
12200 Warwick Blvd., Suite 590A
Newport News, VA 23601
757-534-5918
Services:
The Riverside Diabetes Services team focuses on diabetes wellness. Certified Diabetes Educators, or CDE, are available to teach blood glucose monitoring, insulin, medications, etc. to individuals as well as group classes. Nutrition assessments and education are available for all ages and all diagnoses as well. Services are available: Monday 8 a.m. to 8 p.m.; Tuesday through Thursday, 8 a.m. to 4 p.m.; Friday, 8 a.m. to 1 p.m.; Saturday class once per quarter, 8:30 a.m. to 12:30 p.m.
Scheduling:
757-534-5918
Fee information:
Individual session for diabetic meal plan $112.50 per session
Counseling for nondiabetic is $102 per session
Insurance billing: Yes; insurance copayments are due at the time of service
Riverside Wellness & Fitness Center
12650 Jefferson Ave.
Newport News, VA 23602
757-875-7525
Services:
Riverside Wellness & Fitness Center offers individual and group nutrition services, including weight management programs like HealthyU and Meal Plan Bundles. Registered dietitians on-site offer private individual nutrition services for weight management, diabetes, hypoglycemia, cancer, high blood pressure and high cholesterol, prenatal, eating disorders, sports nutrition, pediatrics, vegetarian, celiac disease and other special diets.
Scheduling:
757-875-7533, ask for the registered dietitian
Fee information:
Initial Session (one hour) is $60 for members and $80 for nonmembers; follow-up session (30 minutes) is $45 for members and $60 for nonmembers.
Discounts available for two-session and four-session packages
Insurance billing not currently available