Pavilion Pharmacy is a full-service pharmacy located within Riverside Regional Medical Center. A dedicated parking space next to the pharmacy is available for customer drop off and pick up. Physicians can send prescriptions to Pavilion Pharmacy through e-prescribe or by fax at 757-223-7686.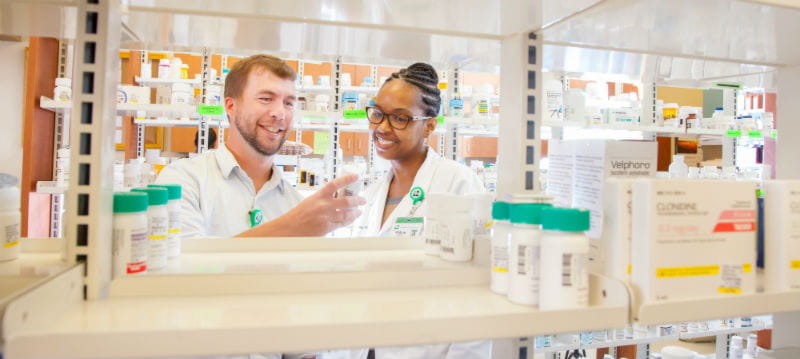 Competitive pricing
We offer the same prices as "outside" retail pharmacies. We accept all major insurance, credit cards, cash and checks. If you need a high cost medication, the Pavilion team may be able to connect you with a pharmaceutical discount program.
Ask a pharmacist
We are available to you and your family to answer any questions about your medications. Your call is answered by a live person, not a phone tree, during our regular business hours.
Mobile pharmacy app for refills
Our mobileRx app gives you a convenient way to request refills.
Delivery to patient bedside
When you are a patient in Riverside Regional Medical Center, you can have your prescriptions filled and delivered right to your room. No need to stop on the way home to pick up meds! Bedside delivery hours are:
Monday - Friday, 10 a.m. - 5 p.m. (rounding at 10 a.m., noon, 2 p.m., 3:30 p.m., 5 p.m.)
Saturday, Sunday, noon - 3:30 p.m. (rounding at noon, 2 p.m., 3:30 p.m.). The pharmacy weekend hours are 11 a.m. to 4 p.m.
Gift Shop
Along with prescription services, the Pavilion Pharmacy has a gift shop that offers:
Fresh flowers
Balloons
Over-the-counter medications
Toiletries
Reading glasses
Riverside logo items
Greeting cards
Snacks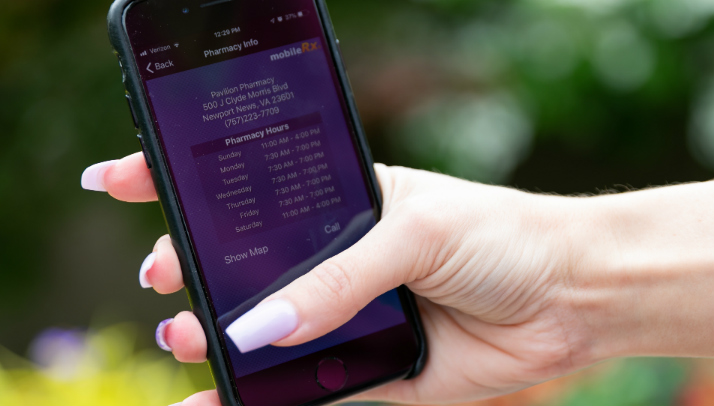 With the mobileRx app, you can refill your Riverside Pavilion Pharmacy prescriptions on your mobile device. You can also see helpful information like the hours, phone and address for the Riverside Pavilion Pharmacy.
There are several ways you can refill a prescription:
Enter the prescription number
Scan the barcode on the prescription label
Use your Patient Profile
Get started
Simply search for mobileRx Pharmacy in your app store or visit mobileRx online (https://www.mobilerx.net/). Follow the steps to set up your account and begin entering refills.
Find Pharmacy
When the Select Pharmacy pop-up displays, tap Find Pharmacy. Enter the phone number 757-223-7709. Tap Search.
Home Screen
The home screen will then display options for requesting refills. You'll see the Pavilion Pharmacy home screen where you can see your options for requesting refills. Choose Express Refills to enter the prescription numbers or tap Scan a Prescription to scan the barcode on your current prescription label.
Express Refills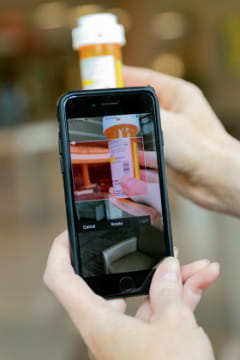 The Express Refills feature lets you enter up to three scripts at a time. To request more, repeat the process. You will be notified right away if the prescriptions are accepted, or if there is an error. You can enter by Rx number, or by scanning the barcode label on your prescription.
If you have questions about using mobileRx app, contact the Pavilion Pharmacy.