Reflections of Love Ornaments: 2020
"We are each of us a snowflake, not two of us the same – reflections of the endless love - the source from where we came."
This phrase, borrowed from a poem, reminds us that the warmth of all those we love, and the gratitude we have for them, can be seen in something as ordinarily beautiful as a snowflake.
With gifts of $100 or more, we would be honored to engrave a loved one's name on the back of snowflake ornament to be displayed in the hospital of your choice, woven into the festive decorations so many pass by this holiday season. This special opportunity to honor or memorialize someone begins a new annual tradition for Riverside, as we celebrate gratitude and raise support for regional Make a Difference Funds and hospice. Ornaments will then be mailed to you in January.
Click here to make a gift and personalize an ornament!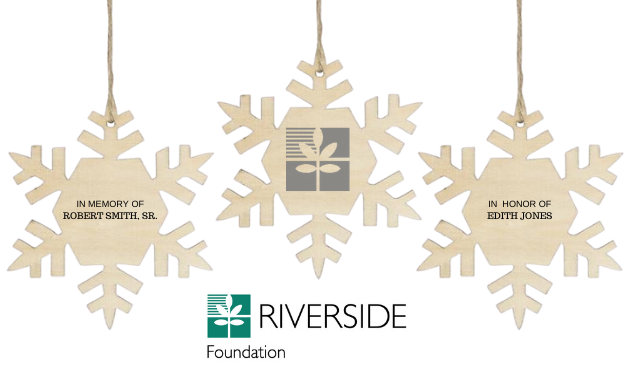 Memorial Gifts and Honorariums
Through the Riverside Foundation, every gift is an opportunity to honor someone you love. Your contribution, no matter the fund it's designated for, can be me made in the name of a team member, loved one or friend. Memorialize those no longer with us or recognize someone close to your heart through memorial gifts and honorariums.
These gifts are the perfect way to commemorate special occasions, such as birthdays, anniversaries and holidays, or just to show someone you care. Your honoree will receive a recognition card, and 100% of your donation will be used to help us achieve the best level of care for our communities. Give the gift of caring through Riverside.