Riverside's Therapeutic and Supportive Services help to improve the health and quality of life for cancer patients and their families, and are provided at no additional cost. It is through the generosity of people like you, who care about hope and healing, that we are able to go above and beyond the basic standard to provide our communities with remarkable cancer care
Learn more about Riverside's Cancer Care Services across the health system by exploring the interactive version of our Cancer Care Services Annual Report.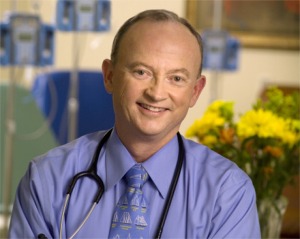 Dr. Mark E. Ellis Endowment Fund for Cancer Care Advancement
Riverside's Therapeutic and Supportive Services include Integrative Therapies. Introduced by Dr. Mark Ellis in 2005, evidence-based complementary therapies are combined with leading-edge cancer treatment to focus care on the whole person - body, mind and spirit - not just his or her disease. Your gift will help to provide this combined approach to care for future patients and loved ones.
Tree of Life Cancer Care Fund
The Tree of Life Cancer Care Fund supports the unmet needs of our patients such as transportation needs and medications, and provides resources for screenings, community education and cancer prevention programs. Gifts to this fund also immediately impact our ability to provide and expand integrative therapies and care coordination for the benefit of the thousands of patients we care for each year.
Together, we can be Stronger Than Cancer
When you give to Riverside, 100 percent of your donation allows us to care for others as we would care for those we love. Thank you - your gift makes a difference!
$500 helps to provide coordinated care and personal guidance for a cancer patient and their loved one throughout their care
$250 can provide a mammogram for one uninsured woman in our community
$100 provides two therapeutic massages which will help decrease stress and pain during cancer treatments
$50 helps patients learn how dietary changes can help with side effects of cancer medications
$25 can provide transportation for a patient post-biopsy or for treatment