"Sometimes we think that a treasure can only be found at the end of a long journey. Or we feel we must scour all the options far and wide to find the very best. While that is warranted in many scenarios, there are also times when the best is right in front of us. That is certainly true in the Hampton Roads community when it comes to cancer care." - Biral S. Amin, M.D., Oncology Service Line Chief, Riverside Health System.
The Cancer Care Services Annual Report provides in-depth information on Riverside's Cancer Care Program, including statistics for the prior year.
2018 annual report
In This Issue:
Surgical Oncologist John Donohue, M.D., Passes the Torch of Specialized Care to Jane Wey, M.D.
The Riverside Pathologist: Scientist, Sleuth and Doctor for All Riverside Patients Benefit from World-Renowned Radiosurgery Pioneer C. Ronald Kersh, M.D.
Virginia's First Varian Edge Machine Goes Hand-in-Hand with Expertise from Riverside's Medical Physicists
Gamma Knife Radiosurgery Continues to Reshape Local Treatment for Brain Tumors
William Irvin, M.D., Leads Comprehensive, Cutting-Edge GYN Oncology Program
Low-Dose CT Screening Enables Early Detection of Lung Cancer
Oncology Research Addresses Unanswered Questions, Provides Riverside Patients with Valuable Local Resource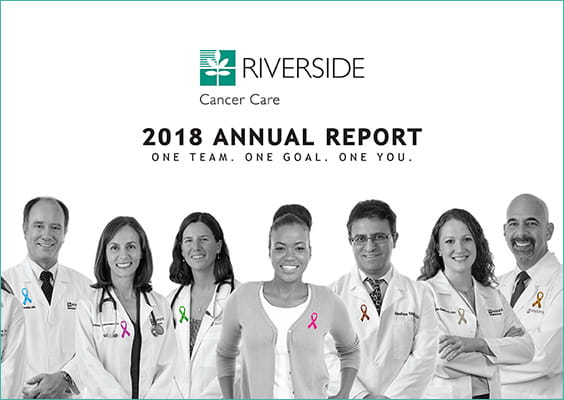 Explore the interactive version or download the PDF version.
For comments or questions regarding this Annual Report or to have a printed copy mailed to you, please call 757-594-3054.
Archive