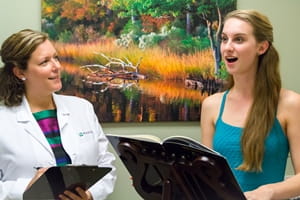 Performers who suffer from vocal fatigue are often afraid of "losing their voice." A routine screening of the voice box can make a difference in the longevity of the singer or voice performer. By participating in a screening, the performer can intercept a minor problem before it becomes a major issue.
Vocal health management is part of Riverside Performing Arts Medicine, a program that brings people together with physicians and therapists who have professional backgrounds in performance: dance, theatre, voice and music. Because they have experience as performers, our providers understand the demands of the performing arts and the importance of timely recovery.
Vocal health team

Catherine Rees Lintzenich, M.D., FACS
Otolaryngologist (ENT) with Fellowship training in laryngology and bronchoesophagology
Trained singer
Surgical and nonsurgical care
Chair of the American Academy of Otolaryngology's Laryngology/ Bronchoesophagology
Has over 50 peer-reviewed medical publications

Ann Cyptar, M.S., CCC-SLP
Voice pathologist
Classically trained singer
Specializing in the care of singers, actors, broadcast professionals, recording artists and professionals who use their voice for their vocation
Has worked with the music departments of ODU, W&M, Virginian Wesleyan and CNU
Vocal evaluations using videostroboscopy
Dr. Lintzenich and Ann Cyptar conduct voice screenings using state-of-the-art videostroboscopy. This procedure examines the integrity of the vocal cords by recording vibration and movement using video technology and special lighting.
Videostroboscopy is performed in the medical office and there is no special preparation needed. The provider typically uses a topical anesthetic to numb the nose or mouth through which an endoscope or tube is passed. It is through this endoscope that the provider will visualize the vocal cords and record sound and movement. The procedure lasts about 20 minutes, is pain-free and results are available at the same visit.
Schedule screening
For more information about vocal screening or Riverside Performing Arts Medicine, call 757-637-6601.