Riverside is proud to offer two physical therapy locations in Williamsburg. We are passionate about your safe, healthy recovery. Our programs are designed with your individual needs in mind, and we seek to help you regain as much strength and functionality as possible following an injury, illness or stay in a rehabilitation center.
Physical Therapy Services
Orthopedic
Neurological
Postoperative rehabilitation
Manual therapy
Myofascial therapy
Worker's compensation
Sports physical therapy
Neck and back pain
SI Joint & pelvic asymmetry
Balance/fall prevention
Spinal traction (decompression)
Wellness and injury prevention
Pelvic floor/incontinence therapy
Lymphedema therapy
Dry needling therapy
Occupational Therapy Services
Upper extremity rehabilitation
Hand therapy
ADL and fine motor training
Cognitive rehabilitation
Saeboflex training
Community/work reintegration training
Specialized Speech-Language Therapy
Dysarthria, Aphasia, Apraxia
Swallow deficits
Parkinson's LSVT BIG & LOUD therapy
Voice therapy
Vital stimulation
Laryngectomy/voice prosthesis
Endoscopic evaluation
Augmentative communication
Cognitive therapy
Wellness
Contact
Scheduling 757-345-3795
Office 757-345-3795
Fax 757-345-3799
Please call for appointment times and hours of operation.
Want to know more about our therapists and staff? Meet Our Team - Williamsburg!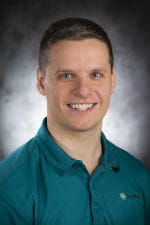 Roger Jackson, PT, DPT
Clinical Coordinator
Roger earned his Doctor of Physical Therapy from Ithaca College. He has been working for Riverside since 2007 and currently manages the Riverside Physical Therapy – Williamsburg location. Roger became a Board Certified Orthopedic Specialist in 2014. Aside from orthopedics, Roger also enjoys manual therapy and working with athletes. Roger enjoys mountain biking and trail riding and can be found spending time with his wife and two children.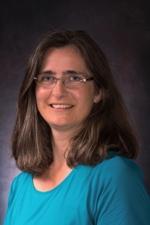 Heather Blair, PT
Heather graduated from the University of Maryland at Baltimore in 1989. She has worked within the Riverside Health System for 22 years with experience in all levels of care, including acute care, inpatient rehabilitation and outpatient therapy. Heather specializes in Pelvic Floor Therapy, Vestibular Rehabilitation for balance, Neuro Rehabilitation for post stroke and brain injury patients, utilization of Bioness L300, and Aquatic Therapy. Heather is also a STAR Certified Practitioner in Cancer Rehabilitation. Heather's passion for quality patient care, coupled with her passion for her profession, result in functional and meaningful outcomes for her clients. Heather provides treatment at Riverside Physical Therapy Williamsburg.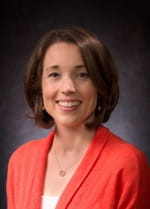 Arielle M. Poe, PT, DPT, Certified Dry Needling Specialist
Senior Physical Therapist
Arielle Poe, PT, DPT is a Colorado native who graduated with her Bachelor's from the University of Colorado - Boulder in 2007. She then graduated with honors from Old Dominion University with her Doctorate of Physical Therapy. Arielle specializes in orthopedic physical therapy, post-operative rehabilitation, and treatment of headache and neck pain, using both manual therapy and exercise based techniques. She holds her certification in Dry Needling through Kinetacore and the American Dry Needling Institute, giving her a diversified focus to treat both acute sports related injuries to more chronic conditions. Along with Dry Needling, she utilizes her training in functional movement and strengthening to treat the patient as a whole.
Arielle is clinical instructor certified; mentoring Doctorate of Physical Therapy candidates to achieve entry level status in the profession.
She currently resides with her husband and son in Williamsburg and enjoys frequenting local art events, kayaking along the York River, and practicing yoga.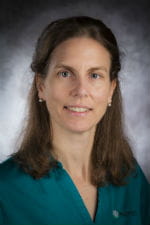 Karen Krochina, PT, DPT, Schroth Certified Therapist
Senior Physical Therapist
Karen graduated from Washington University Medical School in Saint Louis Missouri with a Post Professional Doctoral Degree in Physical Therapy in 2012. She earned her Master's Degree of Physical Therapy from Washington University in 1999 and a Bachelor's Degree in Exercise Science from the University of New Hampshire in 1993.
Karen has 18 years of experience in physical therapy, specializing in treating orthopedic patients including spinal dysfunctions, post-operative care, and sport related injuries. Karen has extensive background in posture and biomechanical assessment to determine the primary movement dysfunction that contributes to stress on painful tissue. She uses a systematic evaluation to better tailor treatment and expedite return to normal function. Karen has also taken many specialty courses in manual therapy to improve soft tissue and joint mobility as an adjunct to patient care.
Karen is certified in Schroth Approach to treating adolescents with scoliosis. Schroth method uses special corrective breathing techniques and exercises that elongate the trunk to correct the spinal and pelvic imbalances of the body.
Before pursuing a career in physical therapy, Karen worked as an exercise scientist for a highly regarded researcher who was recognized for his contribution to the field of exercise by the Olympic committee. Working in research allowed Karen do develop an analytical and thorough approach to problem solving, which has been invaluable when approaching complex patients.
Karen lives in Williamsburg with her husband, but is a native to the Northeast. Karen enjoys biking, jogging, working out, volleyball, tennis, traveling, history, and reading.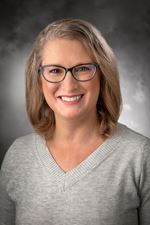 Catherine Rivera, PT
Kate graduated from VCU-MCV Physical Therapy program in 2001. She has worked in an outpatient setting in and around the area for over 19 years. She has a certification in Pilates that required over 500 hours of training and practice on all equipment used in a Pilates studio, as well as courses completed ranging from Manual therapy courses for the spine and extremities, McKenzie Spine Rehab for the Lumbar spine, and Graston Technique to name a few. Kate Rivera has lived in the Williamsburg area since 1999 and is also a Navy Vet, married to a Navy Vet with 3 children and 2 dogs. Hobbies include walking or biking the trails near her home and around the area as well as practicing Martial Arts and Pilates. Kate has been with Riverside since 2016 and reports she is happy to be part of such a fun & supportive team!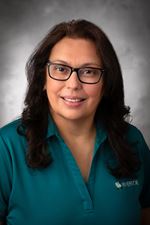 Claudia Arce, LPTA
Claudia is originally from Colombia, South America. She came to the Hampton Roads area to attend school and pursue life in a different culture. She attended the English Language center at Old Dominion University and obtained a certification from the intensive English program. She received an Associate of Science from Thomas Nelson Community College followed by an Associates of Applied Science in Physical Therapy from Tidewater Community College.
Claudia has over 20 years of experience in all levels of care and therapy settings including skilled nursing facilities, assisted living facilities, home health, acute care and outpatient. Claudia joined the Riverside Outpatient team in Williamsburg in the spring of 2020. She is bilingual English/Spanish, has a passion for serving others and is always committed to expanding her knowledge in order to deliver quality care and achieve exceptional patient outcomes.
Outside of the clinic, she enjoys all types of art expressions as well as scenery walks and hikes but mainly she enjoys spending time with her family and friends.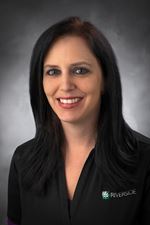 Dixine Iverson, OTA
Occupational Therapist Assistant
Dixine graduated from the Jefferson College of Health Sciences with an associate's degree in Applied Science- Occupational therapy Assistant in 2009. She is certified clinician in LSVT BIG for treatment of Parkinson's disease. Dixine is also a certified Lymphedema therapist helping patients with cancer and venous insufficiencies. Prior to a career in Occupational therapy Dixine earned a BA in 2001 in History and BS in 2003 in Anthropology from Radford University. She previously worked as a historian/educator in local museums. Dixine was excited to relocate from Northern Virginia to the historical Williamsburg area.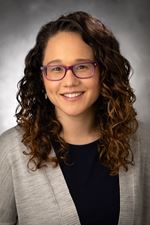 Elizabeth Gray, OT
Elizabeth (Liz) is a Hampton Roads native who graduated from James Madison University in 2011 with a B.S. in Health Sciences. She attended Tidewater Community College and obtainer her AAS in Occupational Therapy Assistant. She worked as an occupational therapy assistant from 2015-2017 with Riverside. She returned to James Madison Univeristy in 2017 to earn her Masters in Occupational Therapy. Upon graduation and passing the national board exam, she returned to Riverside as an Occupational Therapist. She enjoys treating orthopedic conditions and helping individuals return to their favored hobbies. She enjoys spending time with her significant other and family. Her favored hobbies are to go hiking, to work out, and to play with her cat and rabbit.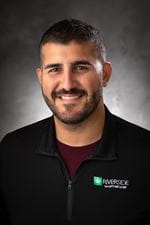 Marcus Rivera, PT, DPT, SCS
Sports Clinical Specialist
Marcus received a bachelor's degree in biology from Christopher Newport University before earning his Doctor of Physical Therapy from Old Dominion University. He is board-certified as a Sports Clinical Specialist by the American Board of Physical Therapy Specialties.
A highly trained Physical Therapist with specialty expertise in sports rehabilitation and injury prevention, Marcus's practice emphasizes function above all else. He believes that every movement has a purpose-either for sport, leisure or work. Restoring the body to that optimal function is his goal, achieved by a personalized plan for exercise, manual therapy or combination of methods.
After moving frequently as a child whose father served in the U.S. Marine Corps, Marcus and his family eventually arrived in Williamsburg. He graduated from Lafayette High School and remained in Hampton Roads for his undergraduate and post-baccalaureate education. Marcus and his wife Kristina have two young children, Alaina and Landon. He enjoys spending time outdoors with his family as well as volunteering with a local high school athletic team.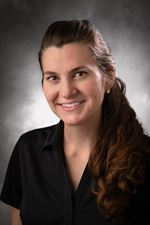 Rebecca Rogers, PTA
Physical Therapist Assistant
After her undergraduate studies at Fairmont State University as well as obtaining a Massage Therapist License, Rebecca earned her PTA degree at ECPI University in Richmond, Virginia. She has worked in several settings as a Physical Therapist Assistant with most recent being a steady outpatient clinic.
Rebecca is passionate about manual therapies and their importance in the rehabilitation process. She continues to grow as a clinician through continuing education of Manual Therapies, Pelvic Floor Therapy and Functional Rehabilitation. Rebecca holds herself to a high standard as a Christian, a Therapist, a Virginia Air National Guardsman a Wife and Mother. She enjoys interacting with people with diverse perspectives, knowledge backgrounds and experiences knowing that this can lead to growth, understanding and compassion.