A department of Riverside Regional Medical Center
Welcome
Riverside Thoracic and Cardiovascular Surgery provides quality and patient-centered care in adult cardiac, thoracic, and peripheral vascular surgery. We seek to utilize the latest technology and clinical techniques with a personal approach, allowing our patients to receive world-class care, close to home. Read patients' stories.
As part of Riverside Medical Group (RMG), we also offer, if needed, a team approach to care based on fast access to the comprehensive expertise and resources of RMG, one of the state's largest and most clinically diverse multi-specialty physicians groups.
When it comes to matters of the heart…and chest… Riverside Thoracic and Cardiovascular Surgey offers a full range of services that include:
ascending aneurysm repair
coronary artery disease requiring bypass surgery
and valve repair and replacement.
Among the variety of thoracic disorders we treat are:
chest tube insertion
lung masses/nodules
lung cancer
esophageal ruptures/tears/cancer
and mediastinal masses
Welcome to Riverside Thoracic and Cardiovascular Surgery.
Appointments
To make an appointment, please call our office or use the online appointment request. Please note that we do not accept walk-in patients.
Please arrive 30 minutes early for your first appointment, so that we may get to know you and obtain important health information.
If you need to change your appointment time, we appreciate notification at least 24 hours in advance of your scheduled visit.
Do I need a referral?
If your insurance plan requires a referral for you to see us, you are responsible for obtaining a referral authorization from your primary care physician. If we have not received an authorization prior to your arrival at the office, your non-emergent appointment may need to be rescheduled.
What to bring to your first appointment:
Insurance card
Referral forms and co-payments, if required
All current medications in their original containers
Copies of pertinent diagnostic tests and medical records
If you have had cardiology testing at another facility, please have copies of these tests and any other pertinent reports sent to our office prior to your visit
If you have been a patient of a Riverside Medical Group physician, we can access your medical records electronically. If not, and if at all possible, please bring copies of relevant medical records.
Cancellation fee
If you find that you need to change your appointment, we appreciate notification at least 24 hours before your scheduled visit. A $50 "no show" fee may be charged if you fail to show for an appointment or if you do not give adequate notice when canceling or rescheduling an appointment.
Insurance
We participate with most major insurance carriers and will bill both primary and secondary insurance plans as a courtesy to our patients. Please check with your insurance company about your particular coverage as participation can change from time to time. We accept most insurances.
We are also accepting new Medicare patients. If your carrier is not on the list, call us for assistance. When you call to make your appointment, please confirm that we accept your insurance.
Medical records
As a means of expediting care and increasing patient safety, we store medical records electronically. This highly secure system facilitates fast, clear communication among your physicians and specialists. In the event of an emergency, our physicians have immediate access to your medical history. This information can be critical and sometimes lifesaving in helping to properly diagnose and treat your emergency. Please be assured your personal medical records are confidential, and we will not release information without your permission. Please review Riverside Health System's Privacy Statement for more information.
Manage Your Health Online
We've introduced a new electronic health record, which you can access via Riverside MyChart. You will have 24/7 access to parts of your health record by enrolling in MyChart .
Riverside MyChart has many new features and enhanced functionality that will allow you to:
Communicate with your doctor
Read open notes about your visits
Access your test results
Request prescription refills
Manage your appointments
View bills and pay online
Manage your loved one's health through proxy access
We've provided the following information based on our most frequently asked questions. Please don't hesitate to contact us if you need additional information.
Insurance
We accept most insurance including Medicare. Please call our office, if you change carriers and need assistance.
Billing questions
For questions about billing, please call Riverside Medical Group Billing Office at (757) 534-6970.
Pay your bill online
Riverside offers a secure network for paying your bill online. Pay your bill online.
Medicare
Becoming insured through Medicare can be confusing. We recommend reading about the program at the government's official site, www.medicare.gov. Feel free to call our staff with any questions.
Riverside Nurse telephone service
What can you do if you develop a cough at midnight? Call Riverside Nurse a free service that's available 24 hours a day, 7 days a week. A registered nurse trained in telephone triage will answer your questions and, if needed, refer you to a physician for treatment. Call (800) 675-6368. Of course, if you have a life-threatening situation, call 911.
Tales from the Heart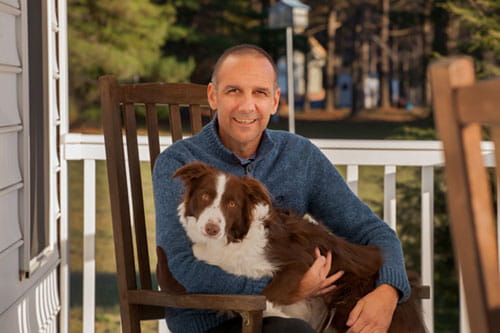 Luther Simmons
Decades of work in the shipyards of Newport News and Portsmouth, some of it operating machinery and some of it in management, had mentally and physically prepared Luther "Sam" Simmons for just about anything. But what he wasn't ready for as he did lawn work that fall day at his Smithfield home, was the incredible pain he suddenly felt in his chest and abdomen.
The EMTs recognized the seriousness of the situation and decided to take me to Riverside. What I had was an aortic dissection, a fairly uncommon and life-threatening condition involving a tear in the major artery carrying blood out of my heart. And I had the worst type. As soon as the dissection was positively diagnosed, cardiovascular thoracic surgeon, Steven Scott, M.D. performed a complex procedure that repaired the damage. Along with his surgical skills, he and the entire care team were very responsive and thorough when it came to explaining everything that was going on to my family. All of the people I encountered at Riverside were especially encouraging and supportive, which I really needed to get through.
As it turns out, I also had a brain tumor that was diagnosed when I got to the hospital. So I had neurosurgery at Riverside not long after the heart surgery and I'm continuing radiation right now. In a sense, the problem with my heart is the reason why the brain tumor is being effectively treated, so I can find a silver lining even in that difficult situation. All in all, the road to recovery hasn't been smooth and straight, but I'm making progress now every day and it's a reminder that there's still more on this earth for me to do.
---
Patient's first-hand account has been minimally edited for clarity and to explain medical terminology.
Paul McClean's Story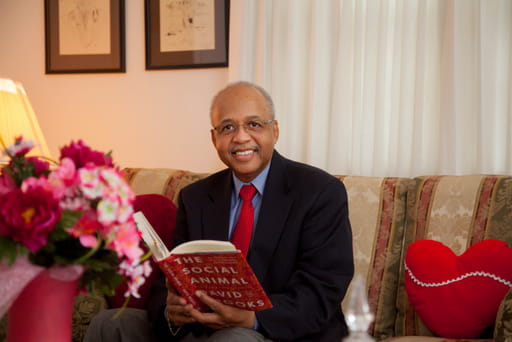 Paul McLean, PhD
From classroom instructor to high school administrator to adjunct professor at Christopher Newport University, Paul McClean has valued teaching and learning all his life. But beginning in late December of 2015 this Denbigh resident encountered a different vocabulary and a whole new area of education, and it was all related to his heart.
"It was a memorable day. We had just bought a new car, my daughter and grandchildren along with my sister and her family had been visiting and the house was festive with Christmas decorations. Then it all changed in a moment. After everyone left and my wife and I were getting ready for bed, I had a severe heart attack caused by a condition called hypertrophic cardiomyopathy. She called 911 and when the EMTs arrived they had to resuscitate me. I was originally taken to another hospital in the area, but when my family and I found out I'd need open heart surgery we chose to have the procedure done at Riverside and I was transported there. It definitely proved to be the right decision."
"Cardiothoracic surgeon Steven Scott, M.D., performed a triple bypass which was the first step in what is now shaping up to be a full recovery. We were very pleased with every aspect of the care and it was especially comforting to get such clear and helpful information, first about my progress in the hospital, and then about the follow-up care I'm now receiving. As I look forward to getting back to activities with my family and a return to teaching, I feel strongly that Riverside more than lived up to its reputation as the Peninsula's top heart hospital."
---
Patient's first-hand account has been minimally edited for clarity and to explain medical terminology.