A department of Riverside Regional Medical Center
Welcome
Dramatic improvements and innovations in cardiovascular diagnostic and treatment options allow us to provide you the highest quality cardiovascular care. Equally important is compassionate, family-centered care, and respect for patients who have honored us with their trust. Read a patient's story.
Riverside Cardiology Specialists has locations throughout the region, including Newport News, and these other locations:
We look forward to serving you.
We consider our professional team "all committed to high quality, personalized care" to be our greatest asset. We hope you agree. Our Nurse Practitioners supervise the Congestive Heart Failure Clinic and conduct and supervise a variety of diagnostic tests and patient assessments. Our Registered Nurses and Licensed Practical Nurses, all certified and specially trained to care for patients with heart problems, work closely with our physicians in all aspects of your care. Our Registered Nurses also act as patient liaisons, offering personalized patient education for you and your loved ones.
Physicians
Maen D. Abou Ziki, M.D.
Joseph Adinaro, IV, M.D.
Jamshid Alaeddini, M.D., FACC
Vasudev Ananthram, M.D
Edward Chu, M.D., FACC
Richard Edwards, M.D., FACC
Divya Gumber, M.D.
William Harris, M.D., FACC
Anthony P. Lombardo, M.D.
Paul Micale, M.D., FACC
John Trujillo, M.D.
Charles Vaughan, M.D., FACC
Fnu Vikram, M.D.
Alexandra E. Ward, M.D.
Rafic Zaitoun, M.D., FACC
Nurse Practitioners
Donna Allen-Peebles, NP
Christina M. Ancheta, FNP
Noralys Guzman, FNP
Kim Liebold, ANP
Kerry E. McGuire, ANP
Valerie R. Pirro, PA
Heidi Roschinger, NP
Alyssa D. Shanks, PA-C
April Towler, FNP
Tara Worley, ACNP
Kerry E. McGuire, ANP
Riverside Cardiology Specialists offers a wide range of services for its patients to ensure they receive the highest level of care. Our team of experts combine their skill and experience to diagnose and treat routine and complex medical conditions. Please use the following list to learn more about the services we offer.
Clinical Consulting Services
Comprehensive Cardiology Evaluation and Management
Preventive Cardiology Services
Specialty Clinics
Cardiac Diagnostic Center
Echocardiogram
Nuclear Medicine
Electrocardiography
Treadmill Testing
Electrophysiology Testing
Invasive/Interventional Cardiology
Coronary Angiography
Cardiac Catheterization
Coronary Atherectomy
Percutaneous Coronary Angioplasty
Coronary Stenting
Drug Eluting Stenting
Radiofrequency Ablation
Cardioversion
Pacemaker Implantation
Cardiac Defibrillator Implantation
Loop Recorder Implantation
Welcome to Riverside Cardiology Specialists.
Appointments
To make an appointment, please call one of our office locations or use the online appointment request. Please note that we do not accept walk-in patients.
Please arrive 30 minutes early for your first appointment, so that we may get to know you and obtain important health information.
If you need to change your appointment time, we appreciate notification at least 24 hours in advance of your scheduled visit.
Do I need a referral?
If your insurance plan requires a referral for you to see us, you are responsible for obtaining a referral authorization from your primary care physician. If we have not received an authorization prior to your arrival at the office, your non-emergent appointment may need to be rescheduled.
What to bring to your first appointment:
Insurance card
Referral forms and co-payments, if required
All current medications in their original containers
Copies of pertinent diagnostic tests and medical records
If you have had cardiology testing at another facility, please have copies of these tests and any other pertinent reports sent to our office prior to your visit
If you have been a patient of a Riverside Medical Group physician, we can access your medical records electronically. If not, and if at all possible, please bring copies of relevant medical records.
Cancellation fee
If you find that you need to change your appointment, we appreciate notification at least 24 hours before your scheduled visit. A $50 "no show" fee may be charged if you fail to show for an appointment or if you do not give adequate notice when canceling or rescheduling an appointment.
Insurance
We participate with most major insurance carriers and will bill both primary and secondary insurance plans as a courtesy to our patients. Please check with your insurance company about your particular coverage as participation can change from time to time. The insurance coverage we accept includes:
Alliance/MAMSI
Aetna
Blue Cross/Blue Shield
Cigna
HealthKeepers
Mailhandlers
Medicare
Private Healthcare Systems
Tricare
United Healthcare
Virginia Health Network
Virginia Medicaid
We are also accepting new Medicare patients. If your carrier is not on the list, call us for assistance. When you call to make your appointment, please confirm that we accept your insurance.
Medical records
As a means of expediting care and increasing patient safety, we store medical records electronically. This highly secure system facilitates fast, clear communication among your physicians and specialists. In the event of an emergency, our physicians have immediate access to your medical history. This information can be critical and sometimes lifesaving in helping to properly diagnose and treat your emergency. Please be assured your personal medical records are confidential, and we will not release information without your permission. Please review Riverside Health System's Privacy Statement for more information.
Manage Your Health Online
We've introduced a new electronic health record, which you can access via Riverside MyChart. You will have 24/7 access to parts of your health record by enrolling in MyChart .
Riverside MyChart has many new features and enhanced functionality that will allow you to:
Communicate with your doctor
Read open notes about your visits
Access your test results
Request prescription refills
Manage your appointments
View bills and pay online
Manage your loved one's health through proxy access
Straight from the Heart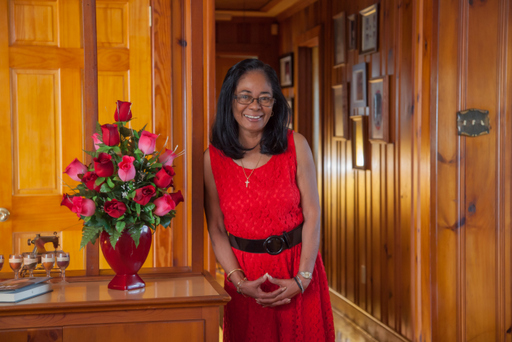 Maria Slack
During her career in the U.S. Army, and in the years following her retirement, Maria Slack has been committed to healthy eating, weight management and a high level of fitness. In fact, her lifestyle would seem to remove her from the usual concerns about heart health … except for a significant family history of heart disease, and that's one risk factor you can't eliminate.
It was May 11th, 2015 and I attributed my upset stomach to some dental work I had done earlier in the day. But when I suddenly felt like I was sitting in sauna I knew something was wrong and immediately called 911. It was only when the paramedics came and put me on the gurney that I felt the kind of chest pain that's usually associated with a heart attack –which is a good reminder that women may not experience classic symptoms like men, so we need to be especially vigilant. I went straight to the cath lab and ended up getting two stents to open up the blocked arteries. The whole process, from the time I called 911 until the stents were in place, took less than an hour.
Part of the reason is that when my husband and I retired from the military we bought a house that's only a short walk from Riverside. But what saved even more time is that the medical team was ready for me when I arrived and was very efficient. Since then I'm even more focused on nutrition and exercise and take part in a supervised program at the Riverside Wellness &Fitness Center. And I remind people to get medical assistance at the very first sign of a heart attack. I'm gratified to report that following that advice has already made a difference in the life of a friend.
We've provided the following information based on our most frequently asked questions. Please don't hesitate to contact us if you need additional information.
Insurance
We accept most insurance including Medicare. Please call our office, if you change carriers and need assistance.
Billing questions
For questions about billing, please call Riverside Medical Group Billing Office at (757) 534-6970.
Pay your bill online
Riverside offers a secure network for paying your bill online. Pay your bill online.
Medicare
Becoming insured through Medicare can be confusing. We recommend reading about the program at the government's official site, www.medicare.gov. Feel free to call our staff with any questions.
Check-up guidelines
One of the keys to lifelong good health is to have regular health screenings. The National Institutes of Health recommends these medical screenings based on your age and gender.
Riverside Nurse telephone service
What can you do if you develop a cough at midnight? Call Riverside Nurse a free service that's available 24 hours a day, 7 days a week. A registered nurse trained in telephone triage will answer your questions and, if needed, refer you to a physician for treatment. Call (800) 675-6368. Of course, if you have a life-threatening situation, call 911.